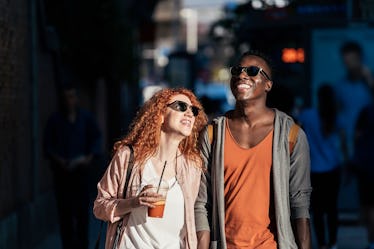 7 Women Reveal The Grandest Romantic Gesture They've Ever Received & I'm Swooning
Some say that millennials have stopped communicating because they've always got their phones in their faces, but they couldn't be more wrong — romance is one thing we've still got in the bag. In the age of prom-posals and over-the-top engagement stories, grand romantic gestures are alive and well with us 20-somethings. There are countless ways to tell someone you're thinking of them, you love them, or you want to be with them forever-ever. Grand romantic gestures can be so extra, a bit more low-key, or anywhere in between.
Sometimes, love is declared with dozens of roses or the words "I love you" written in the sky, but big romantic gestures can come in small packages too, like an impromptu foot rub after a long day or sitting in rush hour traffic just for a chance to hug your boo. I don't know about you, but I feel like sometimes even the littlest things can make you fall deeper in love with someone. Romantic gestures are all about showing your bae (or wannabe-bae) exactly how you feel.
Whether you're currently tied down or single and swiping, romantic anecdotes can be just the thing to remind you how great love can be. I got in touch with seven women who revealed the grandest romantic gesture they've ever received, and their stories will make you melt.