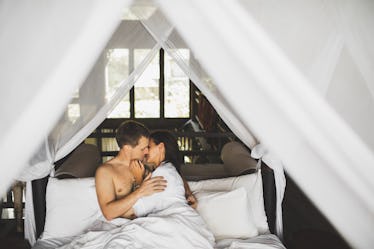 12 People Describe What Rimming Feels Like In Vivid Detail
Oleg Breslavtsev/Moment/Getty Images
If you're a big Cardi B fan, you may have noticed a recurring trend in her lyrics. From lines like, "eat this *ss like soufflé" to "Bae, it's a snack,' he said, 'It's an entrée,'" Cardi likes to rap about the behind-the-scenes of, well, her literal behind. Whether you've just heard about eating the booty or you're curious about trying out some ass licking IRL, it's natural to wonder: What does rimming feel like?
There's a reason people (Sex and the City's Charlotte York included) like to indulge in a little bit of ass play. "There are so many nerve endings around the sphincter, so there's a lot that we can do to play with that area," Lola Jean, sex educator and mental health professional, tells Elite Daily. If this is your first time trying some butt play, Jean suggests rimming as a sexual "side dish," so to speak. "Especially if we're new to this, we're probably already familiar with genital stimulation, so we know what that feels like — we've done it before, we're familiar with it. It can be nice to start with something familiar, and then add a little bit of unfamiliar."
As Jean notes, rimming isn't for everyone. "Really, you have to have trust and [have] comfort in your partner and your butt," she says. If you're feeling worried or uncomfortable, you're not going to be relaxed — and your sphincter won't be, either. But if you are curious, you aren't alone, and as long as what you're doing is consensual and pleasurable to you and your partner(s), there's no wrong or right way to get to it.
Here, 12 people open up about what rimming really feels like — and why they are (or aren't!) into it.
From anilingus to rimming to (as the kids say) eating the booty, there are tons of names for going down on the derrière. If someone literally kissing your butt seems appealing to you, consider talking to your partner about your sexual preferences and fantasies. Talking openly and honestly about your sexual desires is a great way to educate others about sex and de-stigmatize sexual preferences, and as long as everyone is on the same page, there's no wrong or right way to have sex — no ifs, ands, or butts about that.
Experts:
Lola Jean, sex educator, instructor, and coach
This article was originally published on