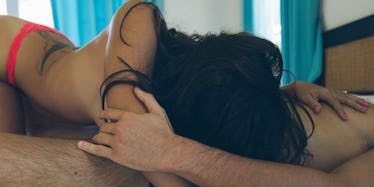 Guys Reveal What Makes A Girl A "Freak In The Sheets" And They Don't Hold Back
Every since I first heard Ludacris' smash hit "Nasty Girl" in middle school, I couldn't help but wonder what exactly is a "freak in the sheets"?
As a middle schooler, the question was obviously complicated by the fact that my only real explanation for sex was a vague joke about a car and a garage.
Needless to say, the whole "sheets" part didn't make a whole lot of sense.
Now, I'm 23 years old, and I write about sex for a living. And to be honest, I'm still not totally clear on what the whole "freak in the sheets" side of things entails.
A new Reddit thread asked men to answer my question once and for all by explaining what it was like to have sex with someone they considered to be "a freak in the sheets."
Read along and prepare for some VERY NSFW content.
She asked him to choke her. (And he was very careful.)
She showed major enthusiasm.
She wanted to taste him.
She wanted to have a threesome.
She wanted him to whip her.
She rimmed him.
She went big on the PDA.
She took a pull mid-sex.
She gagged on him.
She got creative with his splooge.
She let him... explore all over.
She asked him to tie her up.
She was loud.
She shifted it from hole to hole.
She accidentally scratched him.
She wanted anal.
All right, now you know how to get FREAKAYYYYYYYYYYYY. (Proceed with caution, of course.)