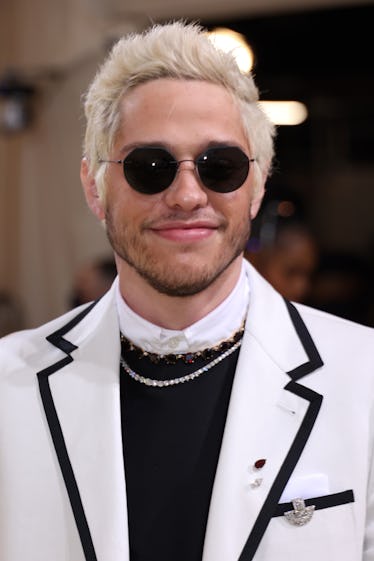 Everything Pete's 'SNL' Castmates Have Said About His Relationship With Kim
Michael Che's comments are iconic.
John Shearer/WireImage/Getty Images
As if the world didn't already know the answer to "who is Kim Kardashian dating?" the mogul and her beau Pete Davidson are the latest power couple to capture the public's undivided attention. And so far, it seems like Davidson's Saturday Night Live co-stars are totally here for it. Especially in the face of recent drama related to Kardashian's ex Kanye "Ye" West, everything Davidson's SNL castmates have said about his relationship with Kardashian has been super supportive and positive.
In November 2021, during a chat with People magazine at the American Museum of Natural History's Museum Gala in New York City, Bowen Yang, Kenan Thompson, and Chris Redd discussed the then-budding relationship for the first time. And TBH, their reactions were priceless. Thompson, a series regular with Davidson, remarked that the comedian is like a "little brother" to him. "I mean, you've got to be happy for love, I guess. If it's love! They look like they're having a good time," Thompson said. "I'm always happy when he's happy."
Redd's response was more full of surprise, like most fans who've watched the rumors turn into a full-fledged reality over the past several months. "Pete and Kim? Damn, Pete. Damn!" said Redd. After his on-point start, he also added, "I hope they're happy. They're wearing matching outfits, so I think they're on their way. [At least] that's what Instagram told me."
Yang chimed in on the relationship, too, with a more calm and diplomatic response than his co-star Redd. "I don't know what the nature of the friendship is, but it seems like they're having a good time hanging out."
Rumors began swirling that Kardashian and Davidson were dating when the reality TV star made her hosting debut on SNL last October, but they didn't really come to fruition until the pair were spotted on a theme park date later that month, as well as two more dates in New York and California a few days later.
The pair were confirmed to be dating in mid-November, and all accounts so far show that they aren't just a fling — they're serious. Shortly after Davidson celebrated his 28th birthday in November with Kardashian, Kris Jenner, and rapper Flavor Flav, a source reportedly told People, "Pete is back in NYC now, but Kim had a great time with him in Palm Springs." The source added, "They were very affectionate and seem more serious. He is very sweet to Kim. She is smitten."
The source also detailed their budding relationship and Kim K's thoughts on Davidson. "They are getting to know each other better and getting along great. Kim loves his spark. He is very funny, entertaining and makes Kim happy. They are still dating and enjoying it."
In March 11, after months of speculation, Kardashian posted an Instagram pic with Davidson in March, confirming that they are a legit item. On March 16, she gave her first public interview about their relationship while on The Ellen Degeneres Show — and she was basically giddy and glowing with the feels. "I have the cutest pictures of us, and I want to be like, 'Oh, my god, we're so cute,' but then I'm like, 'Don't be so desperate. Don't be posting so much, just give a glimpse,'" she told Ellen.
Not to mention, Davidson even has at least two tattoos dedicated to Kardashian: "Kim" on his chest (technically it's a branding) and "my girl is a lawyer" on his clavicle in honor of her legal aspirations.
These days, Davidson's SNL castmates have been showing support for the couple by backing him up in the midst of Ye's public online feud with Davidson. When asked about the drama, Yang told Entertainment Tonight on March 13, "We are supporting him by giving him space. I think he's just, you know, figuring it out, because I think a lot is out of his control, in terms of people's responses. I think he's just getting back to his comfort and I think that is the best thing he can do. We are all thinking about him, and we love him so much."
Redd showed similar support by saying that as a comedian, he was inclined to make jokes about the situation, but out of respect for his friend and fellow castmate Davidson, he wanted to let things simmer down a bit first. "When it's gotten really public and tight, it's just better not to put your friend in a weird situation by antagonizing a situation more than you need to," he said during a March 20 episode of SiriusXM's The Jess Cagle Show. "I think Pete's handling it well and you know, he's starting to talk again. ... So I think these jokes gonna start flying soon. You always wanna make sure on both sides of it, even though me and Ye aren't friends, I want the best for that dude too."
Similarly, SNL castmate and Weekend Update cohost Michael Che displayed loyalty to his friend. When West publicly offered to double Che's salary if he would leave SNL, the comedian declined in a since-deleted Instagram post in February. "Sorry, Ye, but I would never betray my friends," Che wrote. "For anything less than TRIPLE salary. That's right, $90k per year! Full medical. Full dental. Four weeks vacay. Corner office. Plus, a pair of Red Octobers. Size 12. And you gotta make some beats for my band, 'The Slap Butts.' What else, what else. And you gotta tell me what you're gonna wear to work the night before so we can look like twins. You do that for me, and I'll Rambo that whole building."
Well, it definitely seems like Davidson's co-stars are on board with the relationship and are sticking by their castmate's side. All that's left to say is, "Damn, Pete!"
This article was originally published on