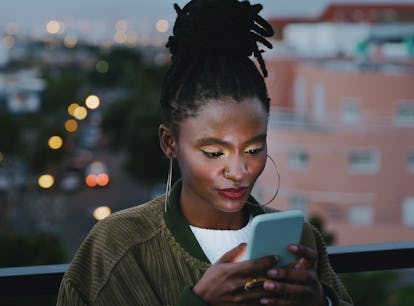 25 Questions To Ask Your Hinge Match When Their Profile Is Vague AF
"How would you describe yourself in three emojis?"
Delmaine Donson/E+/Getty Images
The whole point of Hinge is that it's more thought-provoking (and hopefully a tad more profound) than other apps can be. After all, the app's motto is "Designed to be deleted." Part of that expectation lies in the Hinge prompts users answer on their profile, for the purpose of giving potential matches more information about themselves upfront. But what do you do if the prompt answers your match has written are still vague AF? Well, you can keep a few questions to ask on Hinge in mind.
Awesome Hinge questions can be anything about their personality, food preferences, tastes in entertainment, and more. Some other good ones include questions about their views on life — past, present, and future — as well as questions about what they're looking for when it comes to dating. No matter what kind of question you lead with, there's one main approach you might want to consider keeping in the back of your mind: Make sure all questions for your match are open-ended. That's to say, avoid "yes or no" questions at all costs.
Akua Genfi — mental health counselor and co-host of queer, black, sex-ed podcast Inner Hoe Uprising — previously told Elite Daily the best Hinge questions to ask "call for replies that are thoughtful and include more information, including perceptions, thoughts, feelings, and attitudes." Asking your match thoughtful questions will allow you to "get a deeper understanding of [your] date's personality," Genfi added.
Here's a go-to list of questions to ask on Hinge if you're looking to learn more about the attractive but mysterious person you've matched with.
From here, the conversation should definitely get flowing. If not, no pressure! There are so many more people on Hinge who will be down to have a fun, dynamic conversation with you. While a little bit of mystery can be exciting when it comes to dating, asking these questions will (hopefully!) help you learn more about your Hinge crush and what could possibly be in store.
Expert:
Akua Genfi, mental health counselor and co-host of Inner Hoe Uprising
Editor's Note: This story has been updated by Elite Daily Staff.
This article was originally published on