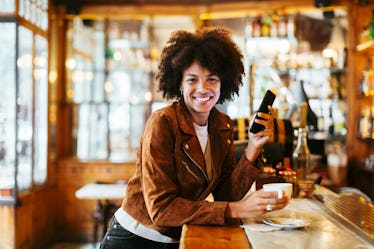 20 Questions To Ask Your Match About What They're Looking For In A Partner
When vague dating app bios and sparsely-answered profile prompts leave your match a mystery (beyond their cute, beaming face, of course), you might want to have some questions to ask your match about what they're looking for on hand. Half of your motivation might be satisfying your curiosity. Your match might seem interesting, but it's OK to want to expand on that potential a little bit. Are they as quippy as their dating profile? Are they really that cool?
The other half of your motivation may be to understand just where this digital flirtationship is going. Yes, a solid way to test your chemistry IRL and your couple compatibility is to go on a date. But before you even make plans at your favorite bar, park, or museum, you can try to gauge if the other person is looking for same type of relationship you are.
Stef Safran, a dating expert and matchmaker, previously told Elite Daily, "I think most people want a committed relationship in the long run, but sometimes you want to see what else is out there. Conversation is key, and you need to discuss what your needs are in the relationship."
The same way you have your wants, needs, and dating deal-breakers in a relationship, the other person probably does, too. So, it can be helpful to ask them about their tastes, goals, and romantic and sexual desires. Here are 23 questions to ask your match (before you even have your first date) that can help you figure out if you're on the same page about what you're looking for in a relationship.