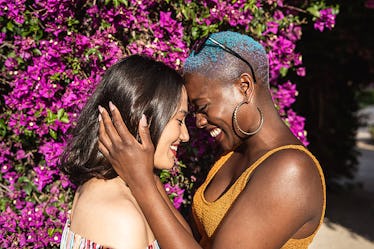 Here's What Really Makes A Couple Compatible, According To Experts
Just because you and your bae have the same taste in music and really fun sex, doesn't necessarily mean you're compatible. But what are some signs that you are a good romantic fit? Whether you're still in the "talking" stage or have officially defined the relationship, you might be curious about what makes a couple compatible. Well, there is no one answer. The key is finding a partner whose personality and essence match up with yours. And, when there are areas where you and your partner's personalities and habits diverge — say, you're a homebody but your partner is an avid club-goer, or the two of you have different dietary restrictions due to your different religions — hopefully you're both willing to make a few compromises.
Dr. Joshua Klapow, clinical psychologist and host of podcast The Kurre and Klapow Show, defines romantic compatibility as "the degree to which each person's view of love, intimacy, and attraction (and the expression of these experiences) work together for mutual benefit." Likewise, Susan Trombetti, matchmaker and CEO of Exclusive Matchmaking, says romantic compatibility happens when two people are "equally attracted to each other." But more than feeling butterflies and being emotionally intimate, romantic compatibility happens when you're both "on the same page about where you want the relationship to go," Trombetti explains.
Here are some more things to keep in mind if you're trying to make sure you and your boo are romantically compatible.