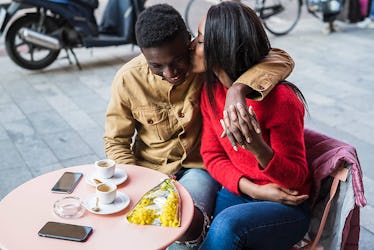 6 Things You'll Notice About Yourself When Falling In Love, Because It'll Surprise You
In movies and TV shows, falling in love is always portrayed as a slow, beautiful thing. It usually happens during a montage, while the happy couple laughs, talks, and goes on romantic walks through a park. It looks so peaceful and easy. But in real life, that's not always the case. Falling in love is different for everyone, but no matter how it happens for you, there are certain things you'll notice about yourself if you're falling in love. The reality is, falling in love is nerve-wracking, but exciting and scary all at the same time, so it's normal to feel like a lot of emotions are going through your heart, soul, and mind.
If you aren't sure if you're in love with the person you're currently dating, but you recognize these signs within yourself, then chances are, you might be feeling yourself falling in love. It doesn't happen overnight, and it isn't always easy. There may be ups and downs, and a lot of conflicting feelings such as doubts, nerves, and joy when you fall in love with someone. For me, falling in love with my now-fiancé was scary! It was happening, I couldn't stop it, and I didn't expect it.
Not being able to fully identify your feelings can be frustrating, but you're not alone. Here's what you might notice about yourself if those feelings spell love.