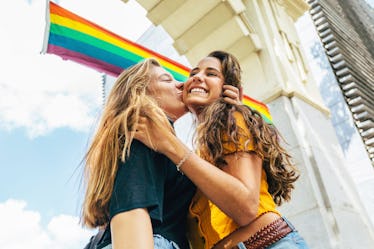 6 Ways Falling In Love For The Second Time Feels Different From The First
Falling in love for the first time is exhilarating and terrifying all at once. It's such a rush that it often feels short-lived. Whether you remember your first love fondly or with some regrets, chances are you learned a few lessons from the person who initially stole your heart. Dealing with heartbreak is hard, and it can make falling in love for the second time feel much scarier than it was the first time around. Fortunately, though, your second love is often healthier, and you're likely happier having learned valuable lessons from your first romantic experience.
"A lot of people feel that if it's not love at first sight or you don't feel how you felt the first time you fell in love, then it will not work," says Brooke Wise, CEO of Wise Matchmaking. "I have seen couples who know right away that this is the person they are meant to be with, and then I have seen couples where it takes longer for the relationship to blossom. It's hard not to compare relationships past, present, and future, but remember that no two loves are the same."
There are many ways that falling in love for a second time feels different — and potentially better — than the first. Like Wise says, "Our hearts are resilient and you are meant to love again." Here, three experts and three young women share their honest thoughts on the differences, based on their very real experiences.