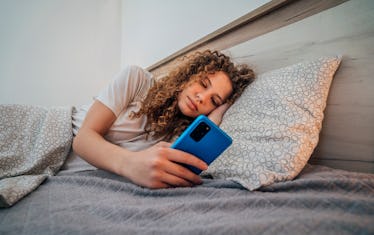 11 Subtle Texting Clues That Mean Someone Isn't Interested In You
So you don't have to waste your time.
LordHenriVoton/E+/Getty Images
In simple terms, g​​etting romantically involved with someone can go one of three ways. In the first way, you both like each other equally and life is dandy. In the second way, they like you more than you like them and it's awkward. Finally, in the third, you're the one who likes them more than they like you but, of course, since you're not a mind reader, you're left feverishly searching for clues as to whether or not they feel the same way. If you are wondering how to know if a girl or guy is not interested in you through text, there are several signs you can spot. Whether someone takes forever to respond to you or they're short with their messages, dating experts say there are a few things you can glean via text message to find out if someone just isn't feeling it.
First and foremost, it's important to know how to tell if someone doesn't want to talk to you over text. Why? Because it saves you time. Wouldn't you want to be in the loop sooner rather than later that someone wasn't as into you as you were into them, so you could move on with your life? But on the other hand, it's important to take these signs with a grain of salt. If you become too invested in trying to search for signs someone doesn't like you, you might overlook some of the signs that they do like you.
When it comes to both sides of the reciprocation coin, generally you should just trust your gut. Chances are, if someone does have feelings for you, it will show itself, according to Connell Barrett, founder of Dating Transformation and dating coach with The League. "When someone likes you, it's almost impossible for them not to show signs of interest," he previously told Elite Daily. "They can't help it. Like a radio tower, we're always broadcasting to the other person how we feel." You just have to know what to keep an eye out for.
For the lowdown on how to gauge whether someone isn't feeling it with you over text, here's what experts say to watch out for.
Experts:
Connell Barrett, Dating Transformation founder and dating coach with The League
Rachel DeAlto, relationship expert, television personality, and keynote speaker
Martha Lee, relationship counselor and clinical sexologist
Julie Spira, online dating expert
Diana Dorell, intuitive dating coach
Nina Rubin, life coach
Damona Hoffman, relationship expert and host of the Dates & Mates podcast
This article was originally published on