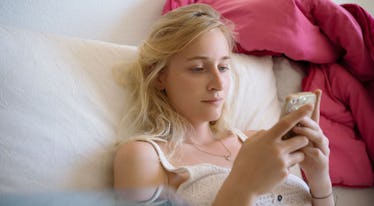 5 Signs You Can Spot From Texting That They're About To Ghost, So At Least You'll Know
Dating in the modern age has a lot of advantages. From being able to weed out potential suitors with the swipe of a finger, to the ease of constant communication, it's mostly pretty great. But one of the worst parts? Ghosting. In my humble opinion, it's one of the worst, most immature things anyone can do to another human. But, these signs that they're about to ghost, provided to you by actual experts, might be able to help you stop a ghost in its tracks, or at least see it coming.
The thing is, ghosting has become so common because people just don't value commitments to others as much, and don't think they owe anyone else anything. Obviously, you're not going to marry every person you date, or even fall in love with them, but still, a little consideration goes a long way.
So, if you're with someone, and you're a little worried that they're about to ghost you, then how can you know for sure? Well, most couples' main way to communicate is through texting, so by taking a close look at how your partner texts you (or doesn't text you), it can become obvious that they've got ghosting on the brain.