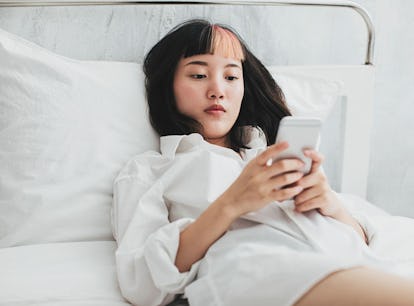 Here's What You Should Do If Your Partner Takes Forever To Text Back
And by forever, we mean longer than is reasonable.
I love texting. Wait, let me rephrase that: I am grateful for texting. That's because I remember the dark ages when you used to have to actually — ugh — call people. Fortunately for some, those dark days are over, but even texting is not without little, irritating quirks, like when you get left on read or when someone takes forever to text back. (OK, maybe not forever, but it can feel def like it sometimes.) If you feel like you're regularly left hanging, it can be really frustrating, especially if it's your partner who's taking forever to reply.
According to clinical psychologist Joshua Klapow, Ph.D., you may not have reason to worry, even if it feels like she or he takes 12 hours to reply sometimes. "People text on different cadences depending on a couple of different factors," he tells Elite Daily, adding that those factors could include what they're doing and their own personal texting style. "One of the things I caution people is that there very often is a context to why they're responding quicker or slower that may have nothing to do with you or their interest." But if their slow response time bothers you regardless, then here's how you should approach this tricky subject.
One final thing to consider: Is this just an issue of them being a little tardy in answering you? Or is it really just another symptom of a more serious problem in the relationship? Really, only you can answer that question, but it may mean facing truths you've been avoiding. You deserve to be in a relationship where you feel valued and respected, and if being left on read is messing with that, then it's time to speak up.
Experts:
Joshua Klapow, Ph.D., clinical psychologist
Susan Winter, NYC relationship expert
Editor's Note: This story has been updated by Elite Daily Staff.
This article was originally published on