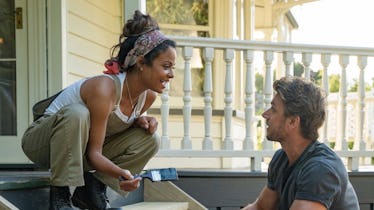 The Rom-Com You Need To Watch Post-Breakup, Based On Your Zodiac Sign
Someone else's love story might sound like the last thing you want to watch if you're newly single, but a rom-com after a breakup — fave snacks on deck and best friends by your side — can be super soul-reviving. The way the genre weaves romantic fairytales with hilarious bits of cold, hard reality reminds viewers that love can be found anywhere, and can thrive even under outrageous circumstances. Quality time with your crew watching joyful, light-hearted movies can be an excellent antidote to heart-break.
With plots ranging from more "serious" (couples who stand by each other in the face of chronic illness) to straight-up absurd (extraterrestrial romance), rom-coms can be super diverse. If you take your zodiac sign into consideration, it's even easier to find the perfect one to fit your personality.
There isn't a more Sagittarian post-breakup vibe than a rom-com about booking a Spanish getaway with your girls and taking a detour to party hard, European style. A film about friendships born from heartbreak would be just the thing to help extroverted Geminis cope. Falling in love on the job sounds like a love story Capricorn dreams are made of. Here are the rom-coms you should get into post-breakup based on your zodiac sign, because there's a little something out there for everybody.