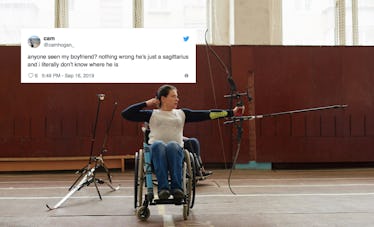 27 Tweets About Dating A Sagittarius That Have Perfect Aim
From taking spontaneous vacations to having super-steamy sex (three times before even leaving the house), a Sagittarius love story will keep you on the edge of your seat. A dreamer and a doer, fire sign Sagittarius is daring and adventurous. From constant excitement to a love of trying new things, there truly is something to be said for dating a Sagittarius. Well, according to Twitter, there's a lot to be said. And these tweets about dating a Sagittarius really hit the bullseye.
Because they tend to value their freedom, Sag needs a partner who will give them space. They're idealistic and generous, and while they do make for their romantic partners, they need to take time and space for themselves. When they feel like they don't have their freedom, Sag can get a little cagey. What can they say? This archer wants to really play the field before settling down with someone they love. And even when they've found someone they want to be with, Sag will likely prefer a night out on the town over spending a quiet night in with a boo.
And while astrology can't dictate everything, these 27 tweets about falling for the archer have nearly perfect aim.