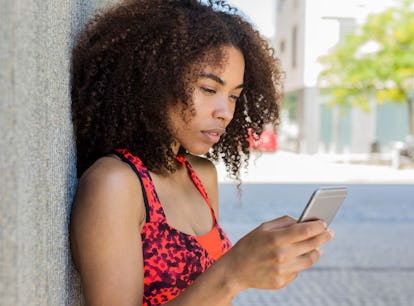 If You're Mad At Your Partner, Text Them This Instead Of Blowing Up
Because a long rage text probably won't get you anywhere.
Tell me if this sounds familiar: You're pissed at your partner so you start to compose a text that'll really let them know how you're feeling. You type and delete, over and over, because you're unable to fully express the fury in your heart while still making your point. Eventually, you give up on your point altogether and say something really ugly, or they push a boundary they know they shouldn't touch. All of this just escalates the situation and you end up fighting over text — hard. If anything, you feel worse now. The rage text, it turns out, isn't the best text to send if you're mad at your partner. Shocker, I know.
It can be hard to know what to say to your boyfriend when you're mad at him, but you don't want it to turn into a huge, unproductive fight. So how do you communicate in a way that actually leads to a resolution? To better understand how to let a guy know you're mad at him through text, here's what experts recommend.
These sample texts can let your partner know how you're feeling, hopefully without putting them on the defense. And although you can't control how they react to your amicable, respectful text, you do have full control over your reactions. You should never have to lie or hide your feelings from your partner, but there are ways to communicate your anger without escalating the argument. This way, you can reach a resolution that will make you both feel satisfied.
Experts cited:
Carrie Krawiec, licensed marriage and family therapist
Rebecca Newman, MSW, LCSW
Susan Winter, relationship expert, love coach, and author of Breakup Triage: The Cure for Heartache
This article was originally published on