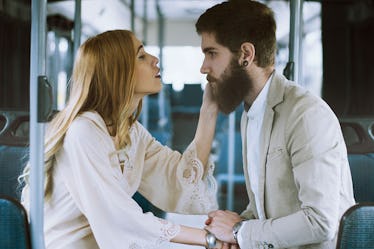 4 Therapists On How They Teach Their Clients To Fight Fair In Relationships, So Take Notes
Learning to manage disagreements with your partner can be a super helpful skill to have in romantic relationships. It's far too easy to get into a fight, get caught up in the moment, and start dragging your partner through every mistake they've ever made. However, this type of fighting isn't always the healthiest, and can be harmful toward the relationship if you and your partner aren't careful. That's why fighting fairly in relationships is something everyone would benefit from mastering.
It is totally normal to argue with your partner from time to time, so don't feel like every time you have a fight, it's because your relationship is doomed. Being able to resolve conflicts can have a huge impact on how you and your partner manage your differences overall. Even though it can be tempting to say things out of spite or fall into the trap of rehashing old drama, avoiding these tactics can help you both focus on the task at hand: finding the best way to solve the issue. Whether you're arguing over dirty dishes, or something much bigger, there is a way to argue productively. I reached out to four therapists to find out how they teach their clients to do just that. Here's what they had to say.