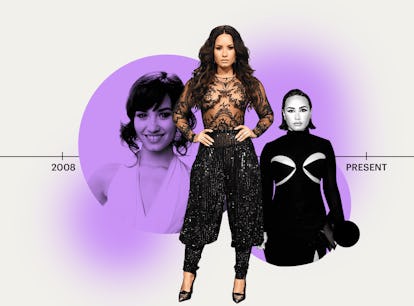 Demi Lovato's Style Evolution Shows She's Been Ahead Of Every Beauty Trend
It's truly a time capsule of lewks.
Jahné Spencer/Elite Daily; Getty Images
Ever since Demi Lovato first stepped into the limelight with Camp Rock in 2008, she has showed up and showed out with her beauty looks. Fans have seen the "Swine" singer evolve from a teenage Disney star to the 30-year-old powerhouse she is today. Throughout the years, she's been on countless red carpets, done hundreds of performances, and rocked more makeup looks than you could even imagine, leading to Demi Lovato's impressive beauty evolution.
You'd think with a career spanning more than a decade, there would be more than a few less-than-impressive beauty looks, especially considering Lovato started her career as a teen (or even younger, if you count her Barney & Friends days). I mean, if you looked back at my 16-year-old makeup looks, you'd get secondhand embarrassment, but that is so not the case when it comes to Lovato's pics from the '00s. From her first red carpet in 2008 to now in 2022, she does. Not. Miss. Not to mention, Lovato did nearly every makeup trend you've ever heard of first, far before they even became trends. She basically invented being a trendsetter. If you don't believe me, just look at her beauty evolution over the years.
This article was originally published on