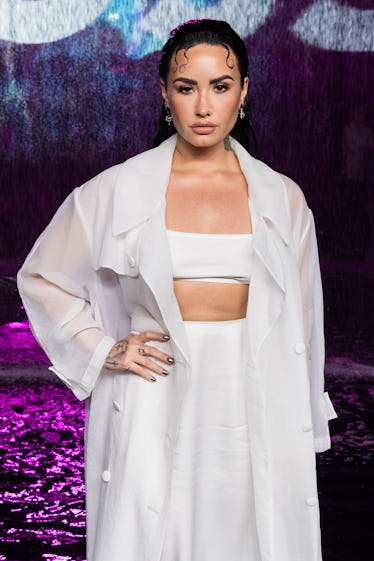 Demi Lovato's "Swine" Is A Middle Finger To Anti-Reproductive Rights
"Give these motherf*ckers hell."
Jason Koerner/Getty Images Entertainment/Getty Images
Demi Lovato knows how to communicate rage. The singer (who uses she/her and they/them pronouns) has a natural venomous bite to her vocals, and that cadence has come alive in her transition to punk-rock music. On her latest single "Swine," Lovato used the grungy genre to express her outrage at the lack of care around reproductive rights.
On June 22, they surprise dropped "Swine" and its accompanying music video. The track comes two days before the one-year anniversary of the Supreme Court overturning Roe v. Wade. This collapse ended the constitutional right to a safe abortion, and millions (including celebrities) across the country have spoken up in protest. Lovato serves as the latest beacon to speak on the topic, and she's yielding her thoughts with iron-clad armor.
"Although the path forward will be challenging, we must continue to be united in our fight for reproductive justice," Lovato wrote in an Instagram post announcing "Swine." "I want this song to empower not only the birthing people of this country, but everyone who stands up for equality, to embrace their agency and fight for a world where every person's right to make decisions about their own body is honored."
"Swine" treads in with an ominous guitar solo. With its soft, almost gloomy pace, listeners are possibly led to believe this release would be a slow one. However, once those rippling drums and Lovato's vocals pierce through the speakers, it's clear "Swine" is a searing testimony that's been boiling inside of them. With unfiltered frustration, the singer makes her stance of wanting to protect her bodily autonomy clear in the opening verse.
"God forbid, I wanna suck whatever the f*ck I wanna / God forbid, I wanna f*ck whoever the f*ck I want / And if he c*ms, I guess I gotta be a mother," she spits. She later points her finger at the government, raging the group would use its authority to stop her dying protests of wanting to be seen.
Lovato also acknowledges this discomforting narrative in the music video. Directed by Meriel O'Connell, the visual sees them charging back against a group of men preparing to sign a ruling. As a crowd of people passionately chant the track's chorus, Lovato snatches the prepared legislation and rips it in two. This action adds an intense layer to her wail in verse two: "It's your book, but it's my survival."
Check out the fiery video for "Swine" below.