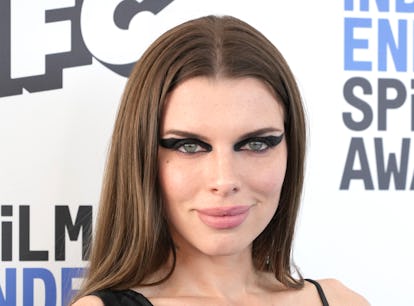 Julia Fox's "Fox Eye" Makeup Tutorial Is Giving Batman And I'm So Obsessed
You, too, can nail the now-infamous makeup look.
Kevin Mazur/Getty Images Entertainment/Getty Images
Few makeup looks become iconic the first time it makes its debut onto the red carpet, but that's exactly what happened with Julia Fox's "fox eye" eyeshadow. Since she first stepped out with the black eyeshadow and abstract liner in January 2022 while she was dating Kanye West (known these days as Ye), people have been in a tizzy over the very dramatic look. Days after she wore the makeup, it was showing up runways. There's even TikTok filter you can use. But you can finally take the look out into the real world after Fox shared a tutorial for her makeup on Instagram. Now, she can be your muse, too.
The origins of this daring look stem from none other than her ex-boyfriend, Ye. According to Fox, the rapper created this Black Swan-esque makeup look for her by smudging black liner and eyeshadow into the actor's lids. But Fox has kept the look going even after the couple's breakup, reportedly with the help of Pat McGrath. Fox and Ye's whirlwind romance may be over, but makeup is forever. And now, she's making the look her own.
If you're nervous about pulling off this look, let Fox ease your fears. "It's not that serious," she said about her makeup routine in the video, and oof, is that refreshing to hear. While she still considers makeup an art, it's clear she like to have fun when going out. You don't need to possess an arsenal of skills for this one, either, since she applies pretty much all of her makeup with her fingertips it's really not hard to recreate.
We only include products that have been independently selected by Elite Daily's editorial team. However, we may receive a portion of sales if you purchase a product through a link in this article.
I'm truly galled by how easy Fox's "Fox Eye" is to recreate on both eyes as long as you aren't afraid to get your hands dirty. I know what I'm doing tonight.