Do You Like Scary Movies?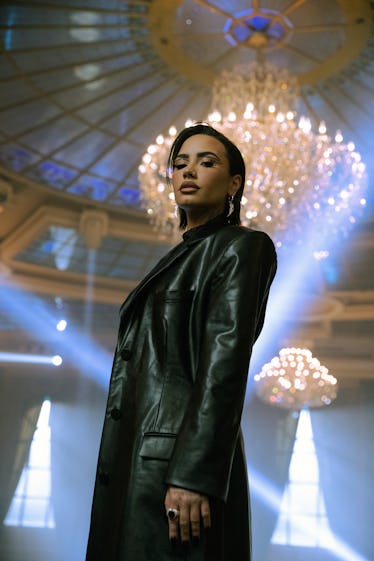 Demi Lovato's Haunting "Still Alive" Video Will Make You Scream
It's horrific in the best way.
Angelo Kritikos
Demi Lovato is horror's latest and coolest final girl. On Mar. 3, Lovato (who uses she/her and they/them pronouns) released "Still Alive," the lead single off the Scream VI soundtrack. This track feels like an extension of Lovato's Holy Fvck album, an era that saw her owning punk-rock as though she invented it. Of course, she didn't pioneer the head-thrashing sound, but "Still Alive" is a sickening reminder that she belongs in the genre.
In order to deliver angsty greatness, you have to work with an even angstier legend — it's key. Lovato understood the assignment and teamed up with Mike Shinoda of Linkin Park, who helped co-write and produce the single. "Still Alive" is stacked with elements of punk-rock, such as sludgy metal guitars, rousing melodies, menacing drum patterns, and gloomy one-liners. These dark hues are necessary touches for "Still Alive," as the singer wails about surviving through a living hell.
"I couldn't think of a more perfect home for 'Still Alive' than within the Scream universe," Lovato said in a press release. "I'm a huge fan of the films, so it's an honor to contribute to such an iconic horror franchise."
This brooding cut is fitting for a Friday release, even if it's not the infamous 13th. In the accompanying music video, Lovato and her crew show up to a hotel for what appears to be a screening of Scream VI. That observation is teased when she gives an invitation to the front desk receptionist that reads, "Do you like scary movies?"
It isn't long before the screening turns into a slasher film. Ghostface suddenly rises from the ashes and bludgeons everyone with a knife, of course. By the end of the video, Lovato's the last one standing and has to fight off Ghostface. Right as she raises the knife to stab him, the scene stills and pans out to show the entire attack wasn't real, but rather part of the actual screening they came to watch.
Unsurprisingly, the lyrics are just as tantalizing as the music video. Beginning with an eerie synth, Lovato details various nightmarish scenarios she's woken up in. She croons,
"Woke up under water / Throat chained at the collar / Couldn't get any farther / From the daylight / Was I still dreaming / Stuck to a machine or / Choking and screaming with my hands tied."
Her voice is stagnant during this description; however, there's just enough underlying power in her cadence to give listeners chills. The track's puckish rhythms begins to pick up in the pre-chorus, where she's become "so numb" to the idea of someone rescuing her from this hell-ish life. Though apathetic, Lovato realizes she has to be her own savior, and that realization blares in the chorus.
"Still alive / I don't wanna just survive / Give me something to sink all my teeth in / Eat the devil and spit out my demons," she wails, her cracky rasps adding a stunning layer of resilience to the lyrics.
Lovato's strength, which seems to be constantly tested by her "demons," remains strong throughout the rest of the tune. This somewhat echoes the plot of the Scream franchise, where the residents of Woodsboro have to tough out their own tribulations in order to fight their biggest threat: Ghostface. It's always thrill-ifying to hear Lovato on edgier arrangements such as these. Welcome back, Lovato.
Check out the music video for "Still Alive" below and the full lyrics via Genius.