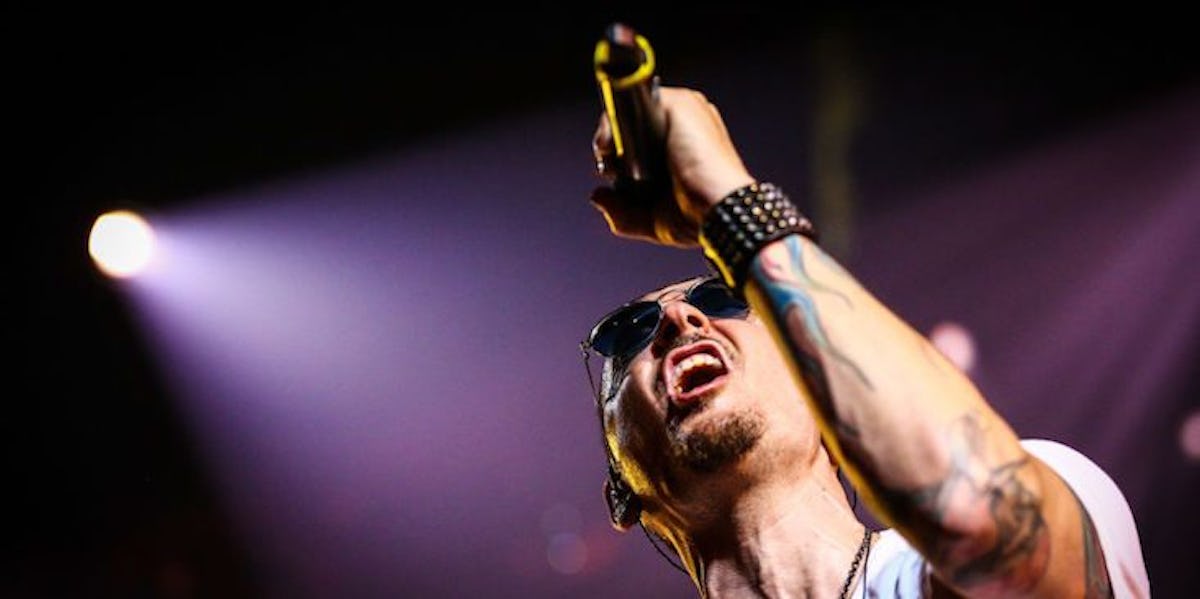 Most Touching Linkin Park Lyrics To Honor Chester Bennington
Rich Fury / Stringer
It's a sad day in the world of music. Linkin Park frontman Chester Bennington reportedly committed suicide on Thursday, July 20 and fans' hearts around the world are breaking.
According to TMZ, Bennington was found just after 9 a.m. at a home in Palos Verdes Estates, California. He was 41 years old and had six children.
Bennington was famously close to lead vocalist of Audioslave Chris Cornell, who committed suicide back in May 2017. July 20 would have been Cornell's 53rd birthday.
To honor Bennington, here are some of the most touching Linkin Park lyrics.
"Shadow of the Day"
And the shadow of the day will embrace the world in grace, and the sun will set for you.
"Lost in the Echo"
I can't fall back, I came too far. Hold myself up, and love my scars.
"New Divide"
So give me reason to prove me wrong, to wash this memory clean. Let the floods cross the distance in your eyes. Give me reason to fill this hole, connect the space between. Let it be enough to reach the truth that lies across this New Divide.
"Hands Held High"
My brother had a book he would hold with pride, a little red cover with a broken spine. On the back he hand-wrote a quote inside, when the rich wage war, it's the poor who die.
"In The End"
Time is a valuable thing, watch it fly by as the pendulum swings. Watch it count down to the end of the day, the clock ticks life away.
"Leave Out All The Rest"
When my time comes, forget the wrong that I've done. Help me leave behind some reasons to be missed. Don't resent me. And if you're feeling empty, keep me in your memory. Leave out all the rest.
Our hearts are with all those affected by this enormous loss.