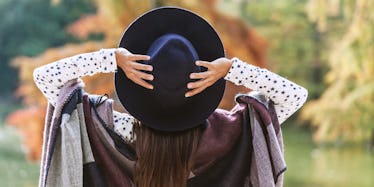 13 Ridiculous Fashion Trends We Really Hope Will Die In 2016 (Photos)
Celebrities convince us to do dumb sh*t.
They coerce us to blow $16 on an album and cry about relationships we swore we were over (thanks, Adele).
Still, what's most criminal is the glitterati's ability to dictate our fashion decisions. No matter how wealthy and vapid they are, we still fall victim to the trends.
They're not all bad, but sometimes what is deemed stylish is really something Anna Wintour would turn her up her nose at.
While we're all creatures of habit, we also must evolve and trust our trash bins.
In the name of Carrie Bradshaw and Rihanna, toss these fashion trends away in 2016.
1. Round wire glasses that make you age 50 years.
Naturally, Kendall Jenner wore these frames and Kardashian enthusiasts went nuts trying to own a pair.
Seriously? You want to look older?
While countless fashion blogs say KJ made senior citizen style look chic, I'm here to let you they lied.
Don't buy these until you need dentures.
2. Blanket scarves that make you look like a walking duvet cover.
Is that a throw you're wearing, darling?
Maybe your intention was to stay warm in 30-degree weather, but you just ended up looking like a walking couch.
Try a smaller scarf on for size. If that's not warm enough, zip into a puffer coat.
3. Floppy hats even fashion bloggers can't pull-off.
Wide-brimmed headwear is too big for any occasion outside of the Kentucky Derby.
Whether striped or solid, every style sucks.
Tone down your headwear and allow your hair to be the main event.
That, or wear a cute ass beanie the boys will envy.
4. All those '70s trends you believe to be "vintage chic."
One-shoulder dresses and flare jeans are horrible.
Walking around in your mother's vintage threads doesn't make you any more fashionable than Miley Cyrus.
Halloween has passed and so have these styles. Try on trends from an era you actually grew up in, like the '90s.
5. 3D nail art that won't allow you to use your hands for simple tasks.
Maybe over-the-top nail art fits your flamboyant personality. Still, this trend is more played out than jersey dresses.
Let it go while you haven't accidentally clawed yourself to death.
Simple doesn't have to mean boring. Your nails can still have flair without being a hazard.
6. Over-lined lips that make you look ridiculous.
How silly of you to follow Kylie Jenner's lead for, well, anything.
Though Jenner pulls off her plump pout with the help of lip injections, other girls are drawing wider smiles in hopes of looking sexier.
I get it. Thin lips are a source of insecurity for some. However, it comes off a bit clownish when you take the Joker approach.
Be proud of your pout and put down the lip liner.
7. Normcore fashion that looks like you shopped in Steve Jobs' closet.
So, the goal is to look basic? Okay. Well, congrats.
Still, I beg you to broaden your fashion choices beyond Birkenstocks and turtlenecks in 2016.
Use Jobs' inspiring quotes to get through 2016, but leave his simple style behind.
8. Harem pants that don't even make sense.
How can one article of clothing be so f*cking confusing and hideous?
Even on the most eclectic hipster chick, I can't make sense of the baggy-on-top-tight-on-bottom situation.
Visions of Marisa Tomei and Lisa Bonet dance through my mind when I spot them. Truthfully, they may be the only women to pull them off.
For the rest of you, just stop it.
9. Half-shaved hair Cassie slayed years ago.
I don't care how many times you trim one side of your hair, it'll never be cool.
Go for Adele's new tour-ready bob, instead.
10. Bushy Cara Delevingne brows.
I'm not a fan of razor thin, super sleek brows either. But, your overly bushy brows really only look amazing on a supermodel.
It's so 2013. Head back to your beloved brow lady and trim them down.
11. Athleisure that looks like you workout every day.
Remember when wearing your SoulCycle clothes to the grocery story wasn't a "thing."
Nowadays, people are skipping ab workouts and wearing Lululemon leggings to work.
Look, we all strive to reach peak coziness. But, let's dial it down with all the "How To Wear Your Gym Clothes Every Day" tutorials.
12. Fashion that's supposed to slim your waist, but really doesn't.
Let's take all high-waisted pants and peplum tops, throw them into a pile and burn them.
If you really want to conceal your muffin top, go the workout route.
13. Overpriced fashion that make you look like a Yeezy Season 2 model.
I'm looking at you, Kanye West.
Slapping a price tag on raggedy gear doesn't make it gold.
Let's get that sh*t outta here.