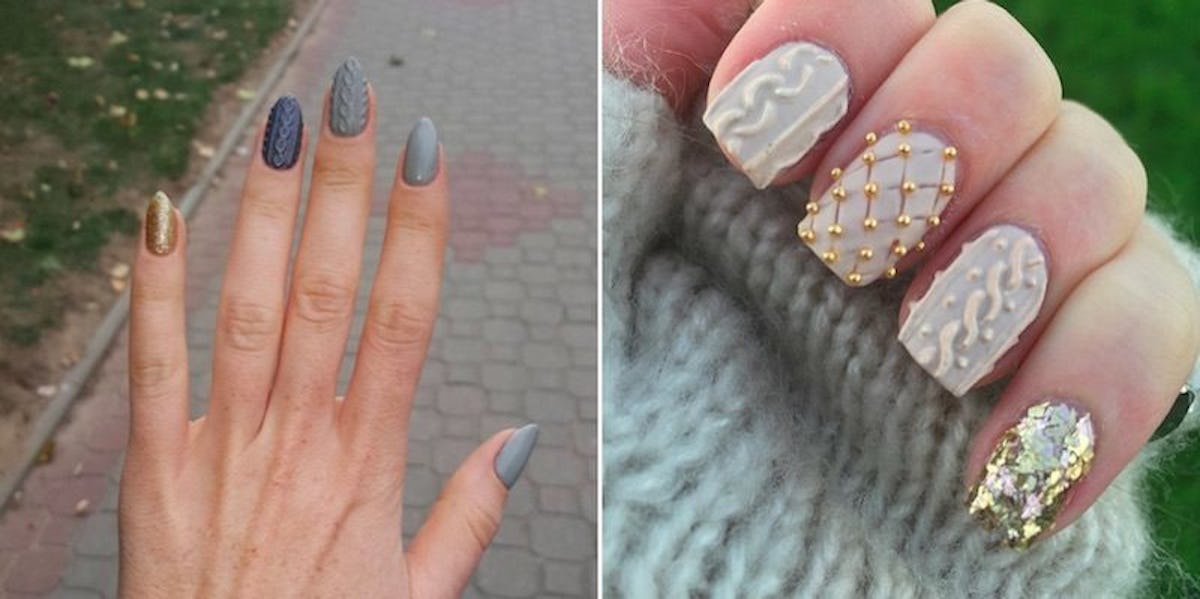 Cable Knit Nails Are The Newest Way To Embrace Sweater Weather (Photos)
Instagram
Winter is the perfect time to show off all your favorite wool fashions.
But if you thought chunky knits were just for scarves and sweaters, think again.
It turns out your nails can also get in on the sweater-weather action thanks to a new beauty craze that's guaranteed to make you feel all warm and fuzzy inside.
Behold: cable knit nails.
That's right, sweater-inspired manicures are a real thing so now you can embrace the cold temps by wrapping your nails up in your favorite knits.
This 3D nail art technique adds an eye-catching element of texture to your talons that look just like the classic cable knit pattern.
Whether you choose to sweater-ize all of your digits, rock cable knit accents on a couple nails or match your mani to your ugly Christmas sweater, there's really no wrong way to get in on this awesome winter look.
Take a look at the pictures below to see this sweater-weather approved nail trend.
Move over mittens...
...there's a new way to keep your fingers warm this winter.
Cable knit nails are the newest trend heating up in the beauty scene...
...and now you can wear your favorite chunky knits right on your fingers.
As the cold weather starts to set in...
...we've seen women ditch the normal nail art for some warmer designs.
You can embrace sweater weather with some toasty tips...
...keep warm with a colorful cable knit...
...bundle up with a bold, wool design...
...take your sweater addiction to the next level with some textured nail art...
...fight off the frost with some fleece fingernails...
...keep out the cold with some eye-catching crochet...
...or simply match your mani to your ugly Christmas sweater.
There's no wrong way to get in on this new nail trend.
The cable knit nail possibilities are pretty much endless.