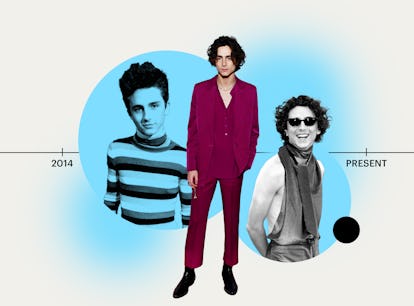 Timothée Chalamet's Style Evolution Is Playful & Experimental
He's a red carpet rockstar.
Lindsay Hattrick/Elite Daily; Getty Images
Breathtaking. Show-stopping. Melt-worthy. Though all these words could easily describe any of Timothée Chalamet's performances (and, of course, his face), they also very much describe his sense of fashion. From his first red carpet appearances, it was clear that the talented star was willing to dip his toes into aesthetics outside the usual scope. But as Timothée Chalamet's style evolution shows, he's now more than willing to be the most bold person in the room when it comes to his drip.
In recent months, the red carpet rockstar has been extra playful and experimental with his attire and accessories, giving genderless fashion the spotlight it deserves. In 2022 alone, he made multiple daring appearances, baring his skin, wearing halter tops, and showing off delicate jewelry at awards shows, film festivals, and photocalls. Chalamet also loves himself a floral moment, or a chance to wear hearts. A man who quite literally wears his heart on his sleeve? You love to see it.
If Lil Nas X's style evolution can be categorized as fearless, Harry Styles' style evolution as high fashion, and Pete Davidson's style evolution as, uh, heavily influenced by his romantic partners, then Timothée Chalamet's style evolution can best be categorized as relaxed yet refined. And it all starts here. Dun, dun, dun(e)...