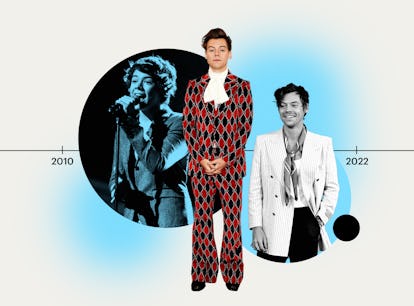 Harry Styles' Style Evolution Only Goes In One (High Fashion) Direction
I'd give anything to raid the closet in Harry's House.
Lindsay Hattrick/Elite Daily; Ken McKay/Talkback Thames/Shutterstock/David Becker/Stephane Cardinale/Corbis Entertainment/Getty Images
Harry Styles' final Love on Tour show is on Wednesday, Sept. 21, but I'm not ready to let go of seeing pics of him on stage in sequined jumpsuits. It's not just because I love a celebrity style evolution. Sure, I've been known to wax poetic about a celeb embracing their identity through fashion and beauty, but there's only one star whose style journey I've been with since Day One. From his frat boy fashion days to his reign as the Gucci king he's become, Harry Styles' style evolution is one of the most iconic ever.
Ever since Harry Styles first stepped onto the X-Factor stage and sang "Isn't She Lovely," I knew my life would never be the same. Now he's a Grammy-winning artist starring in the year's most buzzed-about film and I can't handle how fast he's grown up. As a long-time Styles fan, I feel like I've been there for every change in his aesthetic, and, let me tell you, there have there been quite a few. At this point, I'm practically a seasoned archivist of the former One Direction member's fashion choices.
I remember spending over an hour attempting to capture the perfect screenshots of Styles from the "One Thing" music video and you don't have to do much digging to find the Tumblr I may or may not have created to pay tribute to the "Sunflower" singer. (It's *technically* defunct, but I will still claim the associated street cred.) All this is to say that I've spent the past dozen years preparing to catalog and critique each and every step in Style's fashion evolution. In the famous words of his famous ex, Taylor Swift, he never goes out of style. How could he with all this evolving?