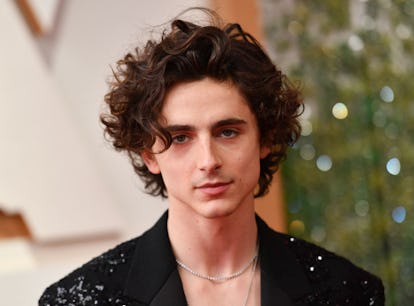 Timothée Is A Whole Meal With No Shirt At The Oscars
"OMFG LOOKS LIKE A WHOLE GREEK GOD."
Causing everyone, myself included, to scream as soon as he appeared on the 94th Academy Awards red carpet, Timothée Chalamet just got himself onto every Oscars Best Dressed list with his revealing ensemble. The actor went shirtless on the 2022 Oscars red carpet, much to the surprise and delight of fans around the world. To say he looked like a snack would only be the tip of the iceberg.
The 26-year-old actor — whose 2021 film Dune is up for several awards including Best Picture — wore a suit that consisted of high-waisted pants, a sequin-embellished cropped jacket over his hairless body, and black boots. He accentuated the look with a long, white gold necklace and white gold rings from Cartier.
During the live performance of "We Don't Talk About Bruno" — in which Megan Thee Stallion, Becky G, and more stars made surprise cameos — a shirtless Chalamet could be seen sitting across from his Dune co-star slash bestie Zendaya, as they both danced along to Megan's special rap verse.
Mike Coppola/Staff/Getty Images
Mike Coppola/Staff/Getty Images
Mike Coppola/Staff/Getty Images
Mike Coppola/Staff/Getty Images
This look is a far cry from his 2021 Met Gala attire. Though he turned heads at both celebrity-filled events, his body was fully covered during the September celebration, in which he made his Met Gala debut and served as co-chair. The upcoming Wonka star wore a full-white suit with a dark collar and a high-neck undershirt (basically, the exact opposite of shirtless), and a set of Off-White Chuck 70 High Sneakers created by Converse. But we take it from fans' tweets that Chalamet's 2022 Oscars look will be the one that goes down in history as the one that made everyone thirsty.