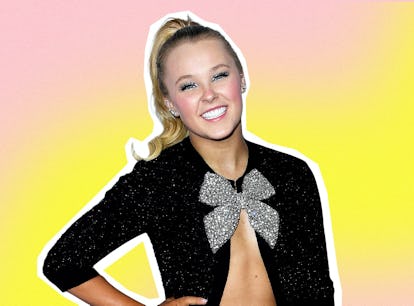 JoJo Siwa's Hair Evolution Is As Colorful As You'd Expect
First ponytails, then pixie cuts, now mullets. It's called range.
Elite Daily
After entering the world of reality TV at just 9 years old, JoJo Siwa has had many iconic hairdos over the years. She's played with colors and styles, and while you're used to seeing her in a ponytail, she's not afraid to try something new. From her first step into stardom to now, Siwa's hair evolution over the course of her career deserves more than a small shoutout.
Siwa's nearly decade-long career all started with none other than Abby's Ultimate Dance Competition, a spinoff show from Dance Moms. From the very beginning, Siwa was known for her statement bows. Soon after, she started a YouTube channel, has competed on Dancing with the Stars, and is now a judge on So You Think You Can Dance. Throughout that time, she's graduated from her classic, blond ponytail to playing with colors, trying '90s looks, and even, most shockingly, getting a pixie cut.
So, going back to the time when fame was just a twinkle in the dancer's eye to now having nearly 12 million followers on Instagram, you can say the 19-year-old has grown a lot. Starting in 2015 all the way to 2022, here's a look at JoJo Siwa's hair evolution over the years. And, no, she's never lost her love of bows.
This article was originally published on