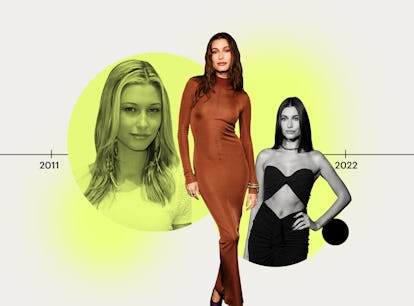 Hailey Bieber's Beauty Evolution Goes From Glowing To Glazed
Lais Borges/Elite Daily; Getty Images
For over a decade, Hailey Bieber's beauty evolution has had underpinnings of cool girl glam, dating all the way back to the beginning of her modeling career. When rhode beauty founder Hailey Bieber was fresh-faced model Hailey Baldwin, she starred in campaigns for established cool girl fashion brands like Guess, Ralph Lauren, and Tommy Hilfiger. You could say these elevated, but unpretentious labels laid the foundation for Bieber's beauty journey.
Even in her teenage years, arguably everyone's most awkward era, Bieber had an air about her that exuded glamour, minus all the effort. It's not easy to make a signature makeup look appear so, well, easy, but Bieber's been pulling it off since she first stepped out onto a red carpet. Even so, this moded is anything but a one-note wonder. Bieber is always down to test out a beauty trend or start one herself, often to rave reviews. From viral glazed doughnut nails to grown-out brows, netizens can't help but hop on the trend trains that Bieber conducts.
Now, with nearly a dozen Vogue covers under her belt, Bieber's empire continues to grow, and her minimal makeup looks, versatile hairstyles, and elegant manicures continue to define a generation. Whether she's launching skin care products that are destined to sell out almost immediately or showing off her nails on TikTok, this mogul stays glowing. Starting with the launch of her modeling career all the way through the rise of rhode skin, here's a look at Hailey Bieber's eclectic yet effortless beauty evolution from 2011 to now.