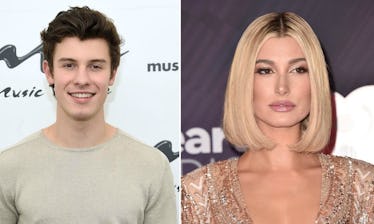 Shawn Mendes & Hailey Baldwin Just Took A Big Step In Their Relationship At The Met Gala
JAMIE MCCARTHY & ALBERTO E. RODRIGUEZ/GETTY IMAGES ENTERTAINMENT/GETTY IMAGES
There's been lots of rumors about Shawn Mendes and Hailey Baldwin over the past few months. Are they dating? Are they not dating? What, exactly, is the deal between these two? Well, these photos of Shawn Mendes and Hailey Baldwin at the 2018 Met Gala are a really good indicator that they're an item! So, those rumors could possibly be true!
Mendes and Baldwin took the red carpet on Monday, May 7, to show off their style and their growing affection for one another. This red carpet marks the very first public appearance for these two as a couple. So, it's a huge step towards acknowledging and building upon their relationship.
Given this appearance and the way they've just clung to each other the entire time, it's probably safe to say that they're trying to set the record straight about all those rumors. Couldn't be happier for them!
For the Met Gala, Mendes and Baldwin were both clad in Tommy Hilfiger and, according to an Us Weekly source, they'll be sitting at the designer's table! They'll reportedly be accompanied by Tommy Hilfiger brand ambassador Lewis Hamilton, as well as Ruby Rose, Kris Jenner, Corey Gamble, Joan Smalls, and Winnie Harlow. There will be some big names at the table, for sure!
Mendes, 19, and Baldwin, 21, have been the subject of romance rumors for the past several months. They were first seen together at Baldwin's Halloween party in 2017. Later, in December, the two reportedly spent Christmas together in Mendes' native Toronto.
So, basically, it looks like they've been an item for quite a while. They're just making their relationship public at the Met Gala.
And they look totally adorable and happy together! Love it!
Fans are loving it, too, as a matter of fact. Here's how they're reacting on social media:
Aw, the fans are so enthusiastic about this union! Gotta love it.
Believe it or not, Mendes and Baldwin aren't the first celebs to go public with their love lives on the red carpet. In 2017, Selena Gomez and The Weeknd made their romance public at the Met Gala, too. And this was way after rumors started swirling about them being together!
From the looks of things, Mendes and Baldwin are following the Gomez-Weeknd trajectory. Hopefully, their relationship will last a little longer than the 10 months it took for Gomez and The Weeknd to part ways.
Mendes, who's set to release his third studio album later this year, recently stirred up the rumor mill when he posted a photo of Baldwin on his personal Instagram account on April 3.
Fans, of course, basically went wild. So did the media, apparently, because the photo essentially confirmed what the world already knew.
All the romance rumors and confirmations aside, this is a pretty exciting time for the young couple. Mendes is set to release his third studio album later this year. And he just released a lead single called "Youth" from the album on May 3.
Baldwin, on the other hand, is hosting Drop the Mic, which just started airing its second season in April 2018. It's currently on TBS; be sure to catch it when you have a chance!
So, Mendes and Baldwin definitely have a lot going for them right now. Their year has been so buzzworthy already and with this new romance, it's probably going to get even more wild!
All in all, Mendes and Baldwin are seem like they're having a lot of fun and they seem super happy together, which is always awesome to see. Have fun at the Met Gala, guys!