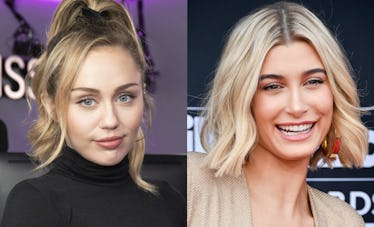 Miley Cyrus Just Admitted She Was "Evil" To Hailey Baldwin As Kids For A Relatable Reason
John Phillips/Frazer Harrison/Getty Images
When it comes to kids with famous parents, a lot of them grew up knowing each other. And Miley Cyrus and Hailey Baldwin are no exception. In their recent episode of Apple's Carpool Karaoke, Hailey Baldwin (who is now Hailey Bieber on the 'gram) and Kendall Jenner were bopping along to Miley Cyrus' "Party In The USA," when suddenly, Hannah Montana herself appeared! In the middle of Cyrus' appearance in the episode, she and Baldwin talked about their childhood memories together. And the video of Hailey Baldwin and Miley Cyrus on Carpool Karaoke revealed a hilariously relatable childhood story about the two.
Baldwin revealed in the clip that she and Cyrus have known each other since long before Hannah Montana was ever a thing. "I've known you since you were 11," Baldwin said.
"I would be evil to her," Cyrus admitted in the car.
Apparently, Cyrus was buddies with Baldwin's older sister, Alaia, and they would pull the classic older-sister-and-her-friend move: tease the little sister and not let her hang out with the big kids.
"She would try to play with us, like me and Alaia," Cyrus said, "and then we would lock her out of the room and be evil."
Celebrities: They're tortured by their older sisters and their friends just like us!
"It made you who you are, you know," Cyrus joked. "It made you stronger. Now you can always take the trolls and sh*t 'cause I was such a troll."
Baldwin joked back, "Miley was the biggest troll to me. She prepared me for this industry."
Kendall Jenner and Hailey Baldwin's full Carpool Karaoke video is available on Apple Music, but you can watch them bopping to Cyrus' music here.
This is also the episode during which Baldwin and Jenner took a lie detector test, and naturally, Jenner asked some questions about the Biebs.
Taking advantage of each other not being able to lie without being exposed, Jenner and Baldwin asked questions like, "Do you like my hair like this?" and "Have you ever created a fake Instagram to look at what your ex-boyfriend is doing?" (the answers to both of those questions were yes). And then, Jenner asked if Baldwin's confirmed husband, Justin Bieber, thinks Jenner is cool.
Baldwin nervously responded, "Of course!" And the man running the test revealed that to be a big ol' lie. Awkward!
One thing the Biebs and Baldwin can't keep a secret anymore is their marriage. Yup, in case you missed it, Justin Bieber confirmed he is married to Hailey Baldwin.
On Thanksgiving, he posted a heartfelt Instagram post confirming the rumors that he and Baldwin's engagement was over and their married life had begun.
"Happy late thanksgiving to everyone," he started off. The rest of his caption read,
First thanksgiving as a married man, first time hosting thanksgiving. First time both sides of the family has come together. Relationships are hard and love isn't always easy but thank you Jesus for showing me how! Every day is a learning process, trying to be more like him, patient, kind, selfless, boy I got a long way! But gods grace is sufficient!
Do you think the Cyrus family was invited to their wedding?