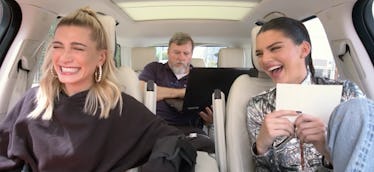 Kendall Jenner Gave Hailey Baldwin A Lie Detector Test About Justin Bieber That Got Awkward
YouTube
Justin Bieber doesn't think Kendall Jenner is ~cool~. Sad! Hailey Baldwin and Kendall Jenner are on the new season of Carpool Karaoke, and the trailer for the show's sophomore season features a clip of Baldwin and Jenner taking a polygraph test. And naturally, Jenner took this opportunity to ask Baldwin about her new fiancé (maybe husband?), but not the question you'd think she'd ask. The video of Hailey Baldwin taking a lie detector test about Justin Bieber reveals the Biebs' true feelings about Kendall Jenner, and it's causing drama! Just kidding, both Baldwin and Jenner thought the moment was hilarious.
Baldwin and Jenner's clip in the trailer starts off with the lie detector test. Jenner, whose hair is in a ponytail with a middle part (brave), asks Baldwin, "Do you like my hair like this?" Baldwin says yes, and she was telling the truth.
Then she asked Jenner, "Have you ever created a fake Instagram to look at what your ex-boyfriend is doing?"
Jenner responds, "You know the answer to this! Yes!" which was also true.
And finally, Jenner asks Baldwin, "Does Justin think I'm cool?"
They both crack up before Baldwin responds with a weak, "Of course!" Turns out... that was a lie! Then the two models crack up even more.
Later in the trailer for the new season, Jenner and Baldwin are seen jamming out to Panic! At The Disco's "I Write Sins Not Tragedies." A classic bop.
Uh, Justin! You got some 'splainin' to dooo!
The Biebs and Baldwin still have yet to confirm if they're actually legally married, by the way. The two were seen leaving an NYC courthouse in September, and at the time it was reported that they got their marriage license that day. Then it was reported they actually got their license and legally got married, but Bieber and Baldwin have not confirmed the rumors. Baldwin tweeted that they weren't married yet, in fact. Then during a visit to a museum that had a Justin Bieber exhibit in Ontario in October, Bieber was reportedly introducing Baldwin to people as his wife. Confused? Same!
According to TMZ, Bieber and Baldwin did get married that day in September, but only legally. The couple reportedly does not feel their marriage is legitimate until they have a religious ceremony. Elite Daily reached out to Bieber and Baldwin's teams previously regarding their marital status, but did not hear back by the time of publication.
Anyway, this tracks, given Bieber and Baldwin's individual confirmations of their engagements.
Baldwin tweeted confirming her engagement on July 9, saying, "Not sure what I did in life to deserve such happiness but I am so utterly grateful to God for giving me such an incredible person to share my life with! No words could ever express my gratitude." Bieber posted a bit of a novel when he confirmed his engagement to Baldwin on Instagram.
Both of their respective confirmations talk about God and how lucky and #blessed they feel to be getting married to each other, so it makes sense that they wouldn't consider their marriage the real deal until they have a full-on religious ceremony. Honestly, I'm only a little bit bitter that Jenner didn't ask Baldwin if she's already married or not while she was hooked up to that lie detector. The opportunity was right there in your lap, Kendall! No wonder Justin Bieber doesn't think you're cool!!