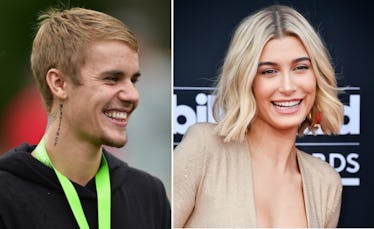 Hailey Baldwin's First Tweet Since Getting Engaged To Justin Bieber Shows Their Deep Love
Frazer Harrison/Getty Images Entertainment/Getty Images Stuart Franklin/Getty Images Sport/Getty Images
2018 is only halfway through and already it's become the craziest year for surprise celeb engagements. On July 7, Justin Bieber reportedly popped the big question to his on-again off-again girlfriend Hailey Baldwin, and she reportedly accepted his proposal. Ever since news first broke over their rumored engagement, fans have been eagerly waiting for one or both of these lovebirds to confirm their engagement — either via social media or otherwise. Well, your wishes have been granted, and Hailey Baldwin's tweet confirming her engagement to Justin Bieber is so sweet.
According to reports from TMZ, Bieber and Baldwin are officially engaged to be married, basically confirming to everyone that these two are on-again for good. The proposal reportedly went down in the Bahamas on July 7, and Bieber supposedly asked his girlfriend the most important question that he'll probably ever ask anyone in his life in front of everyone at the resort over a romantic dinner. Elite Daily reached out to reps for both Baldwin and Bieber at the time, but did not hear
While Bieber proposed, his security personnel reportedly asked that everyone put away their phones before he got down on one knee, so there wasn't any immediate photo or video evidence that this engagement did in fact happen. But now that Baldwin has shared her first tweet since the engagement rumors started swirling, and I'd say it's pretty conclusive.
She wrote,
Not sure what I did in life to deserve such happiness but I am so utterly grateful to God for giving me such an incredible person to share my life with! No words could ever express my gratitude.
If that's not a confirmation, I don't know what is!
Bieber also confirmed the engagement with an Instagram post that he shared on July 9. In the super romantic post featuring a black-and-white picture of the lovebirds, Bieber writes,
Hailey I am soooo in love with everything about you! So committed to spending my life getting to know every single part of you loving you patiently and kindLY... My heart is COMPLETELY and FULLY YOURS and I will ALWAYS put you first! You are the love of my life Hailey Baldwin and I wouldn't want to spend it with anybody else.
Oh my gosh — this is really happening, people!
Baldwin and Bieber have known each other for years now, and have quite a romantic history together too. The couple began casually dating sometime in 2014, but quickly extinguished that romantic flame and went back to being "just friends." In a recent interview in May with The Times, Baldwin confirmed that she and Bieber were not romantically involved at the time. Baldwin said,
I'd never been through a high-profile relationship like that. But it brought both of us to the realisation that we just work much better as friends. He's somebody I really cherish. Now it's a very mature situation. It's good.
Things have apparently changed drastically since then. Reports that Baldwin and Bieber began dating again started popping up in June, shortly after Baldwin's interview with The Times was published — and now it looks like these two are getting hitched. Are these two in a race with Pete Davidson and Ariana Grande to see who's engagement can get the most public shock value? It honestly sure looks like it.
I have so many questions. What made Bieber pull the trigger and propose? What about Selena Gomez, Bieber's infamous on-again off-again ex? Are Jelena shippers' dreams crushed forever? If these two are in it for real, then it sure looks like it. Baldwin and Bieber look so incredibly in love, and I don't know anyone who would read Baldwin's tweet and not feel incredibly happy for her. I am officially shipping these two and will be patiently awaiting their upcoming nuptials. Congrats to the happy couple!