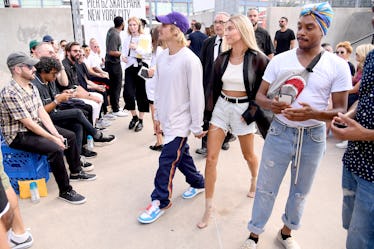 Justin Bieber Confirmed He's A "Married Man" On Instagram With A Sweet Thanksgiving Post
Nicholas Hunt/Getty Images Entertainment/Getty Images
Well, it's official ladies and gents: Justin Bieber is a married man. He popped the question, said his vows, and is now hosting Thanksgiving dinner for his entire family. The eighth grade version of me can't help but be happy for the Purpose singer, who's living his best life with his new wife, Hailey Baldwin. Recently, the two have been on social media a ton, announcing their engagement and putting sweet snaps on the internet of birthday festivities that included cake being smashed in Baldwin's face. But, the latest is a post where Justin Bieber confirmed he's married on Instagram. This couple is truly verified on social media and ready to serve some more heart eyes to the fans.
The past year or so has been a whirlwind for celebrity relationships, and it's been hard to keep up with the whereabouts of rings and marriage licenses between some of your favorites. First things first: There was Ariana Grande and Pete Davidson's engagement that ended on Oct. 14, according to People. This led to Grande's hit single, "Thank U, Next" and a sweet comment from Davidson on SNL — both revealing that no bad blood remains between the two. (Thank goodness, huh? Now, some of us are just really excited to see the music video.)
Then, there was all of the excitement surrounding Nick Jonas and Priyanka Chopra, who put a ring on it on during the summer. They made their big announcement on social media, posing together in a golden hour moment and later escaping to the mountains to celebrate. That relationship moved fairly quickly, too, considering they got engaged after only a few months of dating.
When all is said and done, though, everything seems to have worked out for the best for these couples. And some of us are left with another reason to feel #blessed, during the time of the year that's meant for thanks and giving. Justin Bieber officially announcing his marriage to Hailey Baldwin on Instagram is just the whipped cream on top of the pumpkin pie. Am I right?
You may have expected Bieber's announcement to include a photo of him with Baldwin in their stylish street wear, or maybe an exclusive shot of the bride and groom saying, "I do." But, it was actually much more subtle and focused on the idea of growth. Bieber wrote that relationships can be tough, and he's always striving to be more patient, kind, and selfless. This was shortly after revealing that this is his first Thanksgiving "as a married man," and that he took on the role of host this year for both families.
Honestly, marriage news aside, the part of the caption showing how much our Biebs has grown since middle school days was enough to put me in tears. The post read:
Happy late thanksgiving to everyone. First thanksgiving as a married man, first time hosting thanksgiving. First time both sides of the family has come together. Relationships are hard and love isn't always easy but thank you Jesus for showing me how! Every day is a learning process, trying to be more like him, patient, kind, selfless, boy I got a long way! But gods grace is sufficient !
The words were accompanied by a photo of what could be someone's backyard, or a hiking trail — A.K.A. lots of trees and snow, and not a ring in sight. Once again, this put the focus on his new family — the one that includes Baldwin's relatives, his own relatives, and lots mashed potatoes, too. (How do we score an invite to that Thanksgiving dinner next year? Let me know.)
Just a few days prior to this post from Bieber and the joint family dinner, Baldwin changed her handle on Instagram to @haileybieber, confirming in our brain's that they're going to be together forever. Fans reacted in a bunch of different ways from being excited for the newlyweds, to reaching for the nearest box of tissues.
Since their engagement announcement, where Bieber poured his heart out on social media, people have seemingly had those mixed feelings. (I mean, what do you with the posters on your wall now?) They've taken to Twitter and the comments section to voice their opinions, including their endless joy for the model and singer.
In that engagement announcement post, Bieber confessed his undying love for Baldwin, with a sweet black and white photo of the two of them. Lines like, "So committed to spending my life getting to know every single part of you loving you patiently and kindLY," proved that we'd be seeing more of the couple in the near future. Fast forward a few months, and here we are — celebrating Thanksgiving posts and another celebrity marriage. Congratulations to Hailey and Justin! The pumpkin pie will never be as sweet as you two.