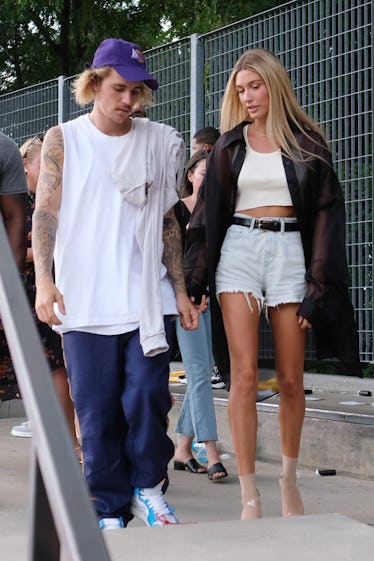 Justin Bieber Celebrated Hailey Baldwin's Birthday By Smashing Cake In Her Face
Nicholas Hunt/Getty Images Entertainment/Getty Images
While most of us were stuffing our faces with cranberry sauce and stuffing in honor of Thanksgiving, one particular couple had even more to be thankful for this year. Thursday, Nov. 22 not only marked Thanksgiving, but also model Hailey Baldwin's 22nd birthday. Well, in honor of his new wife's special day, Justin Bieber celebrated Hailey Baldwin's birthday with an extra special (and messy) surprise. Seriously, these two might be my new #couplegoals.
On Nov. 22, both Bieber and Baldwin's families came together for a joint Thanksgiving-birthday extravaganza. Even though it appears that tons of family members were taking part in festivities, the night ended up being about Baldwin when the family brought out a huge (and delicious-looking) cake in honor of her 22nd year. I don't know about y'all, but I'm have some serious FOMO right now not being invited. Luckily for us, Bieber's mom Pattie Mallette shared some extra special clips on her Instagram story, and for a moment, it feels like all of us were there singing "Happy Birthday" to Baldwin. Even though the whole night looks spectacular, there is one moment in particular that stands out. While presenting his new wife (!!!) with the cake, the couple engaged in playful banter for a few moments before Bieber decided to smash the cake in Baldwin's face.
Leave it to Hailey Baldwin to still look like a total supermodel even with frosting on her face.
Having cake shoved in your face may not be the birthday celebration everyone enjoys, clearly Baldwin didn't have any hard feelings because immediately after, she and Bieber exchanged a sweet (pun intended) kiss together, which Mallette clearly loved to see.
This year has definitely been the year of surprise relationships, and even engagements. In July, rumors were flying that Bieber and Baldwin had gotten engaged while staying in the Bahamas for a romantic getaway. Needless to say, all of us were screaming for more information about the matter. Well, on July 9, the couple finally took us out of our misery when Bieber posted a sweet and lengthy photo of Instagram confessing his love to Baldwin, and how he couldn't wait to spend the rest of his life with her. I'm still crying about it. The post read,
Was gonna wait a while to say anything but word travels fast, listen plain and simple Hailey I am soooo in love with everything about you! So committed to spending my life getting to know every single part of you loving you patiently and kindLY. I promise to lead our family with honor and integrity letting Jesus through his Holy Spirit guide us in everything we do and every decision we make. My heart is COMPLETELY and FULLY YOURS and I will ALWAYS put you first! You are the love of my life Hailey Baldwin and I wouldn't want to spend it with anybody else. You make me so much better and we compliment eachother so well!! Can't wait for the best season of life yet!.
With the news of their engagement hitting us in July, I don't think I'm the only one who expected a little bit more time before seeing these two walk down the aisle. Jokes on me, I guess, because on Nov. 16, reports surfaced that Baldwin and Bieber had gotten married in a courthouse ceremony back in September. Bieber eventually confirmed the speculations by posting a candid photo of them on Nov. 16 along with a caption that said "my wife is awesome."
Mic drop. Personally speaking, I would have preferred to see this wedding live broadcasted, but I'm so happy for the couple regardless.
This roller coaster romance is definitely one for the books, but it's so nice to see that despite how fast things moved between the two, Baldwin and Mallette are totally embracing their roles as family.
Congratulations to the Biebers and Baldwins, and happy belated birthday Hailey!