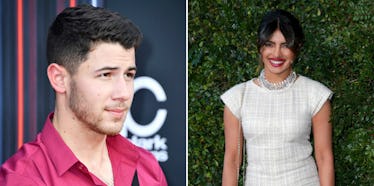 Nick Jonas & Priyanka Chopra Are In The Mountains & I Can't Keep Track Of This Magical Relationship
Frazer Harrison/Rich Fury/Getty Images Entertainment/Getty Images
What's more magical than a Jonas brother and a stunning view of the mountains? Nothing. I repeat, nothing. Earlier this summer, Nick Jonas and Priyanka Chopra got engaged, and it's been a whirlwind ever since. Next to Justin Bieber and Hailey Baldwin, and Ariana Grande and Pete Davidson, they put a ring on it after only a few months of dating. So, to the say the least, everything has been happening pretty fast. Now, the couple is reportedly traveling and celebrating their love. Nick Jonas and Priyanka Chopra's weekend getaway to the mountains is relationship #goals — even if I can't tell where they'll be next.
When the world first found out about Jonas and Chopra, the reaction seemed to be all over the place. Some of my best friends were super excited for the celebrity couple. But, my Twitter feed was filled with girls who were, understandably, heartbroken that Nick was no longer on the market. Maybe it wouldn't last, or maybe he'd decide to date a fan! Sadly, that didn't happen, and some of us are slowly coming to terms with what could've been. (After all, the two are engaged and taking romantic trips together. You can't help but toss some heart eyes their way.)
According to E! News, the couple started their adventure on Friday, Sept 31, in Cabo San Lucas and Guadalajara, Mexico. They wined and dined, before finding some serenity in the mountains of Mammoth, California. By the looks of social media, the weekend getaway has been magical and a highlight of their post-engagement life.
The two reportedly got engaged during a visit in London, on Chopra's 36th birthday. An entire Tiffany's store got shut down for a very special shopping trip, and there was later an announcement picture that dubbed the "Future Mrs. Jonas." *Wallows over the fact that that won't be one of us.* Fast forward a few weeks to the mountains, where the couple is spending some quality time together, in the great outdoors. Are you keeping up, OK?
Lucky for you, social media is keeping tabs on the whereabouts of the two love birds. Jonas posted a photo on Instagram, holding a Coors Light and gazing off into the distance (Possibly to his future with his beautiful bride-to-be.). His backpack seems to be hanging from a tiny branch, and the rolling blue hills of West Coast sit in the background. There are pine trees as far as the eye can see, and a trendy light leak comes through the top left corner of the screen. Is this a dream, or is this real-life? Let me know.
The caption reads, "A man and the mountains," and gives Chopra photo creds. The actress reportedly posted a picture of those same pine trees on her Instagram story that day, with the phrase, "#Magical." This is likely just the beginning of their travels to Mammoth Mountain, considering Jonas has been there in the past for Thanksgiving dinners and probably a few snowboarding trips.
Prior to all of this wanderlust, the couple was in Mumbai, India, where Chopra was filming a movie called The Sky Is Pink. According to People, the two families met for the first time during this trip. An insider source said in the article that, "They are so happy."
All in all, the fans and lovers of Nick Jonas will learn to love his new bae. I mean, at first, some of us were like:
But, magical weekend getaways make this romance one for the books. Soon enough, they'll be walking red carpets as a married couple, maybe having kids, and posting more #fire content onto social media from their travels. It's already burnin' up in here because of these love bugs. Excuse me, I have to step outside.