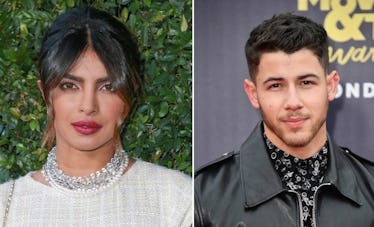 What Nick Jonas Said About Having Kids Could Hint He Wants A Family With Priyanka Chopra
RICH FURY/GETTY IMAGES ENTERTAINMENT/GETTY IMAGES AND FRAZER HARRISON/GETTY IMAGES ENTERTAINMENT/GETTY IMAGES
Nick Jonas has a lot going on right now. In addition to launching his new fragrance collaboration, JVxNJ, with designer John Varvatos, he's also reportedly engaged to actress Priyanka Chopra. On top of that he's also hoping to add more to his plate by becoming a father. While kids don't seem to be on the table right at this moment, some of Jonas' recent comments to Cosmopolitan have fans wondering one thing: will Nick Jonas and Priyanka Chopra have kids?
Well, if Jonas has his way, he will be having kids sometime in the future.
During an interview with Cosmopolitan at the launch of his new fragrance on August 8, Jonas explained that his "goal" is to become dad.
"[Having a family of my own] is the goal," the 25-year-old told the magazine. "It's definitely something that I hope will happen."
Since Chopra is reportedly his wife-to-be, I guess that means he's hoping for her to be the mother of his kids, which proves just how serious he is about his relationship with her.
While chatting it up about his future kids, Jonas also revealed that he loves being an uncle.
"The best part about being an uncle is that it's like training wheels," Jonas told Cosmopolitan. "You get to spend time with these young people and have some responsibility, which is nice."
Jonas' fragrance partner John Varvatos believes his friend would be a great dad. "He is great with kids," Varvatos said. "He's like a magnet to them. They latch right on. It's amazing. He's great."
Sounds like Jonas is more than prepared to take on the fatherhood role! Hopefully, Chopra is game for welcoming some kids into their union.
Jonas and Chopra were reportedly engaged on Chopra's 36th birthday in London. A source close to the situation confirmed the engagement to People, saying the two were "so happy" together. Elite Daily reached out to Jonas and Chopra's teams for confirmation but did not hear back by the time of publication.
People's source also revealed that Jonas' friends and family more than approved of the relationship.
"His friends and family have never seen him like this, and they're all really excited for him. He's definitely very serious about her," the source explained.
Kids and marriage talk aside, this is definitely the real deal for Chopra and Jonas. The very first sign that the relationship was serious was when Jonas brought Chopra to his cousin's wedding in early June. At the time, a source close to Jonas revealed to People that Chopra was just like part of the family:
It's a huge deal that Nick brought Priyanka to his cousin's wedding. He's dated a lot over the last couple years but it's never been anything serious, so this is a big step. Nick and Priyanka really like each other, and his family enjoyed getting to know her as well. She fit right in!
Later that same month, Chopra brought Jonas to India to meet her mother.
So, all this family talk has been brewing for a while, it seems. Prior to the family wedding, Jonas and Chopra attended the Met Gala together in 2018. They also walked the red carpet together in 2017 as friends.