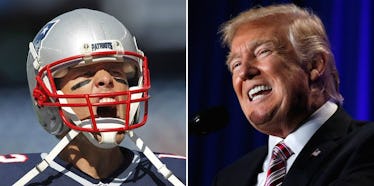 Tom Brady's Friendship With Trump Is Giving Patriots Fans Identity Crises
REUTERS
The New England Patriots are playing the Atlanta Falcons in the Super Bowl on February 5, but a lot of people are seeing it as a game against Donald Trump.
Patriots quarterback Tom Brady, who was famously suspended for cheating to win, has a strange relationship with Trump, who famously won an election, despite losing the popular vote. Plus, many believe the Russians were using Trump.
So yeah, they might have some similar experiences to bond over.
No, really: Brady has expressed support for Trump, who he said gives him "motivational speeches."
Although Gisele Bündchen said her husband did not vote for Trump in the election, Brady says they maintain a "friendship."
He said last week,
Why does that make such a big deal? I don't understand that.
Many people do believe support for Trump is a big deal, at least if you consider the 3.2 million people who showed up to march against him for the worldwide Women's March.
What makes support for Trump such a big deal? It could be his use of blatant misogyny and racism and anti-Semitism and Islamophobia.
It could also be how he put foreign women seeking contraception and Syrian refugees in danger and split up Middle Eastern families in his first week in office.
While Tom Brady, who is a rich, straight, Catholic, cis, white man born in the United States, may not understand what the big deal is about continuing implicit support of Trump, a lot of other people get it.
Some people are super uncomfortable as the Super Bowl approaches.
Some fans are even swearing off support of the Patriots because of Brady's connection to Trump.
It's ridiculous to say we can separate sports and politics.
These topics have been linked for as long as the Olympics have existed. In the modern era, we've seen sports be a platform for discussions on civil rights, Nazism and police brutality.
And it's absurd to argue that Brady's "friendship" with Trump is apolitical. Trump is a politician. A friendship with him is inherently political.
Because of this, many are arguing that Brady (and Robert Kraft and Bill Belichick, who are also rich, straight, cis, white men born in America) need to speak up about their relationships with the president.
Nancy Armour wrote in USA Today,
Brady inserted himself into the national firestorm. He can't be surprised that people want to know more. And now expect more.
Brady's friendship with Trump is being compared to Colin Kaepernick's protest.
Both Brady and Kaepernick started political conversations (Kaepernick by kneeling, Brady by having a "Make America Great Again" hat in the locker room).
So it doesn't particularly make sense Kaepernick has been held accountable to answer for his politics beliefs while Brady is brushing it off.
Being a handsome, talented white man doesn't mean Brady can shut up about his political endorsements. Trump is affecting real lives. Brady shouldn't be allowed to ignore that.
Then again, the NFL has never made accountability a priority when it comes to caring about other people's (or even its own players') lives as long as there's still money to be made.
So really, Brady is just following the culture of the system in which he's making a fortune.
Citations: The Women's March turnout is at 3.2 million and counting (Vice), OLYMPIC TRUCE (Olympics), Armour: Tom Brady has some explaining to do on Donald Trump (USA Today), A Star Player Accused, and a Flawed Rape Investigation (New York Times), There Are 44 NFL Players Who Have Been Accused of Sexual or Physical Assault (Broadly), Roger Goodell put little effort into Ray Rice investigation, report reveals (SB Nation), Trump Bars Refugees and Citizens of 7 Muslim Countries (New York Times), Tom Brady on friendship with Donald Trump: Why such a big deal? (CNN), It's official: Clinton swamps Trump in popular vote (CNN)