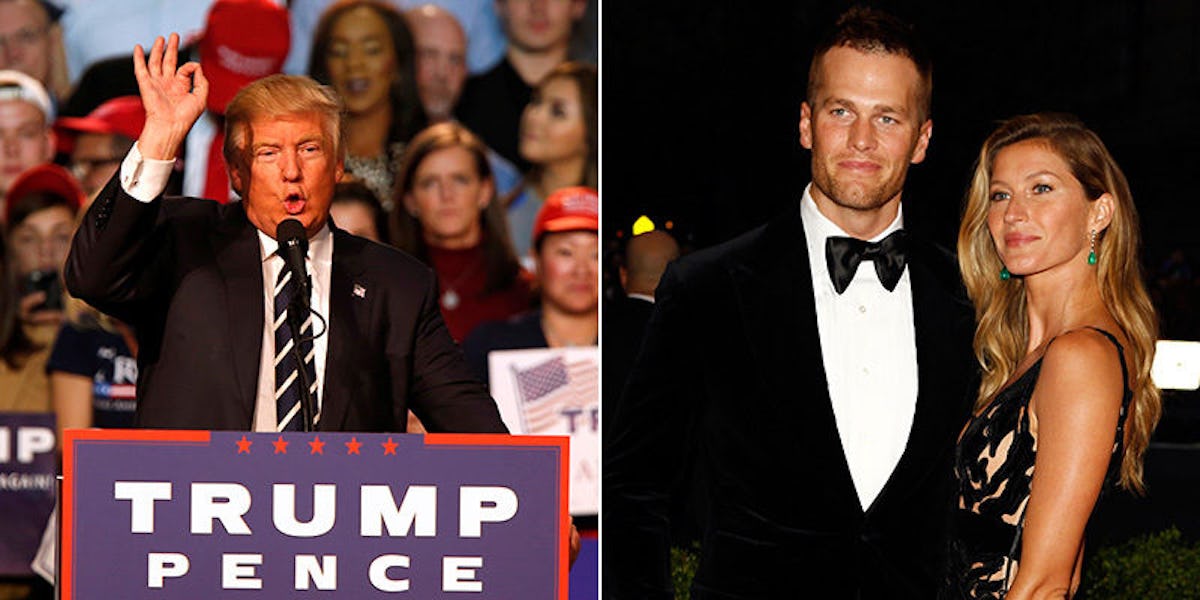 Gisele Bündchen Calls Out Trump On Instagram For Lying About Tom Brady's Vote
REUTERS
Almost immediately after Donald Trump told a crowd Tom Brady voted for him, a few media members pointed out a bit of evidence that suggests otherwise.
That "bit" is a one-word, straightforward response on Instagram from Brady's wife, supermodel Gisele Bündchen.
According to screenshots shared by New England Sports Network reporter Doug Kyed, Gisele was asked by one commenter, "Gisele I heard you and Tom were backing Trump! Is that true?"
The comment was also pointed out by Barstool Sports Boston blogger John Feitelberg.
So then the discussion began -- did a presidential candidate really make up a fake story about a star quarterback voting for him?
Welp, the answer seems complicated, so let's first look at what Trump said.
During a rally in Manchester, New Hampshire (i.e. New England Patriots country), Trump told the crowd,
He [Brady] called today and he said, 'Donald, I support you, you're my friend, and I voted for you.'
Not long after Trump said those words, Scott McLaughlin of Boston radio station WEEI, pointed to Brady's weekly Monday morning interview.
Brady told WEEI he hadn't voted yet. And since early voting in Massachusetts ended on Friday, Trump's words looked even more fishy.
Then Yahoo News national correspondent Hunter Walk cast more doubt on Trump's claim, stating Brady's voter registration is inactive.
In short, basically all the evidence seems to prove Trump was totally making up a story.
If Brady's registration is inactive and early voting ended on Friday and he told a radio station he hadn't voted yet, Trump clearly lied, right?
Come on now, this is 2016. Of course it's not that simple. On Tuesday morning, Boston's local Fox affiliate shared an image of Tom Brady apparently turning in an absentee ballot.
And that all brings us to where we are now: Trump says Brady voted for him. His wife basically said days earlier they both weren't, which makes the question of who Brady actually voted for anyone's guess.
Isn't 2016 fun?
Citations: PATRIOTSWIRE