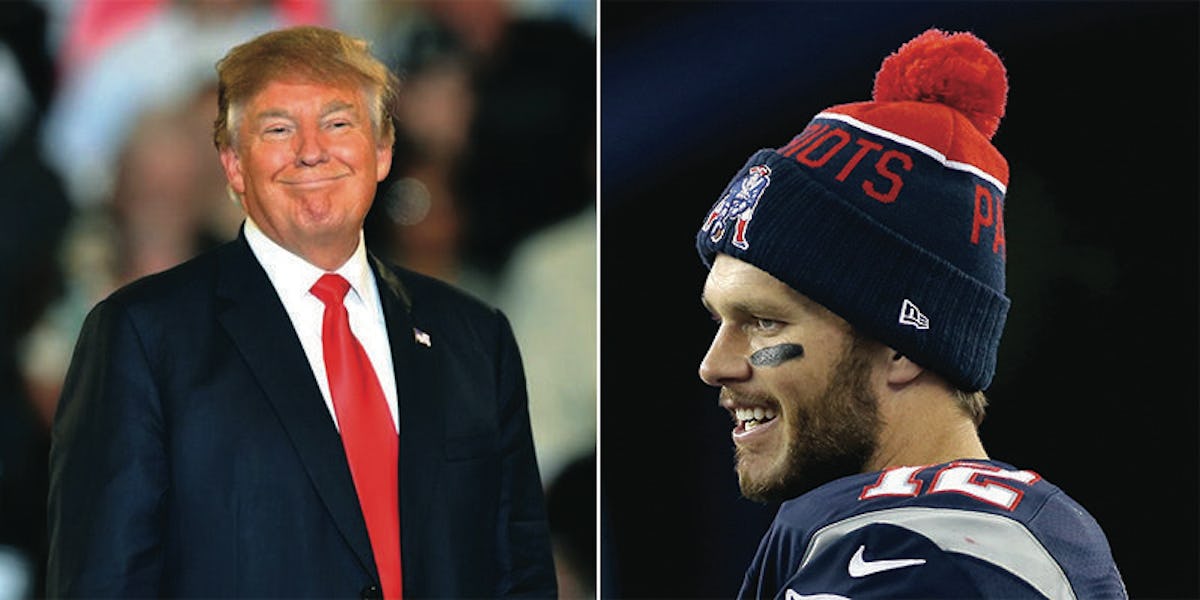 Tom Brady Says He Still Supports Trump Despite Comments About Muslims
Getty Images
Donald Trump is striking a nerve with most sensible folks in this country, but New England Patriots quarterback Tom Brady is not one of them.
Over the past few months, Brady has been vocal in his support of his "good friend," Trump, and that support appears to be unwavering despite Trump's recent comments about Muslims.
Speaking with the "Dennis & Callahan" show on WEEI radio this morning, Brady was reportedly asked by the show's hosts about Trump's recent call for a ban of all Muslims entering the United States. 
Brady said,
Donald, he's a good friend of mine. I've known him for a long time. I support all my friends. That's what I have to say. He's a good friend of mine. He's always been so supportive of me... He's always invited me to play golf. I've always enjoyed his company.
Brady continued,
I support all my friends in everything they do. I think it's pretty remarkable what he's achieved in his life, I mean, going from business, you know, kind of an incredible business man, and then a TV star and then getting into politics... I think that's pretty remarkable.
It looks like Tom Brady supports his friends no matter what, even when those friends are on the record as xenophobes.
Citations: TOM BRADY I STILL SUPPORT DONALD TRUMP ... 'He's a Good Friend' (TMZ), TOM BRADY ON DONALD TRUMP: 'I SUPPORT ALL MY FRIENDS IN EVERYTHING THEY DO' (WEEI)