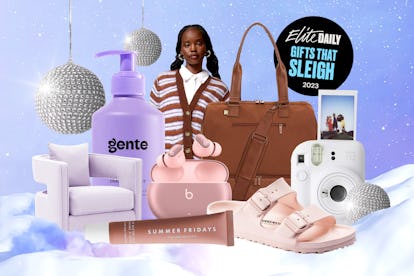 The Best Holiday Gifts Of 2023 For As Low As $7
The Elite Daily staff shares the fashion, beauty, tech, and TikTok-viral items they're obsessing over.
If you've been known to scramble when it comes to buying gifts for the holidays (*slowly raises hand*), you know that even when you do find the perfect item for someone, you can end up paying more money rush-ordering it than you spent on the actual gift itself. To avoid the chaos in your life and wallet — and hey, maybe even score a deal instead of paying practically double this year — it's worth getting a head start on your 2023 holiday gift shopping for friends, family members, roomies, and partners. (OK, and maybe one or two for yourself as a reward for starting the process early.)
To help you narrow it down, the Elite Daily staff put together a collection of the hottest products they swear by this year. You'll find everything from a chic, TikTok-viral swivel chair you can split with others for a group gift to a $10 hydrating hair serum that makes the perfect stocking stuffer. Whether your loved ones are fashion girlies, GRWM icons, Extremely Online, hardcore Swifties, or just desperately in need of a new pair of earbuds, you'll find something on this list for every budget and every type of recipient — no stress included.
Fashion Gifts For The Style Icon On Your List
If you're shopping for a fashion girlie, the season is all about staying warm and cozy, but that doesn't mean they can't have fun with their style. Here you'll find the coziest socks, the cutest accessories, and the most chic winter boots. All amazing gifts to make their holiday, whether you're shopping for your bestie, a parent, or a significant other. — Jordan Murray, BDG lifestyle intern
Beauty Gifts For The Glam Girlie In Your Life
In a year that marked the rise in both Barbiecore pink and gothcore black, it's no wonder that this season's biggest beauty trends have *range*. Bold yet minimalist beats. Light on the highlights; dark hues on the lips. Manis that can go from velvet to glazed to neutral in a matter of weeks. With so many potential looks you and your loved ones may want to try, it can be intimidating to find the perfect beauty gift. Fortunately, there are plenty of stocking stuffers under $40 in all your fave categories (hair, makeup, skin care, and nails) so you don't need to make concessions. Why buy only one when you could buy them all? — Kaitlin Cubria, deputy experiences & beauty editor
Tech Gifts For Anyone Who Needed A Gadget Upgrade Yesterday
It can be hard to keep up with all of the latest releases, but if you happened to upgrade your phone, sound system, or smartwatch this year, you were in for a real treat. From the noise-canceling Beats Studio Buds+ to the Pixel Watch 2, equipped with new safety features, everything from aesthetics to quality was leveled up in 2023. But even if you can't splurge on a holiday gift for a loved one, there are plenty of innovative gadgets and accessories at lower prices. Whether you're shopping for a jet-setting sibling (get them a hands-free phone mount for plane rides) or a roommate who keeps missing book club meetings because they haven't read the book (an Audible gift membership will change their life), you'll find plenty of 10/10 options to make everyone's lives easier. — Michelle Toglia, executive editor
Trending Gifts For Your TikTok-Obsessed Loved One
Take notes from your fave celebs and FYP for this year's best gift ideas. With thousands of rave reviews, waitlists, and stars like Hailey Bieber and Kim K giving these products their seal of approval, these trending items will make anyone on your list happy. To take your locks to the next level in 2024, cop the Jolie filtered shower head that's all over your TikTok and IG or the Kerastase hair oil that's got Alix Earle and EmRata clicking "add to cart." For the always-online person in your life, TikTok's favorite home brand TOV has the statement chair they'll want in all their vids, while investing in this celeb-loved matcha machine is a must for making matcha martinis and lattes at home — and allowing you to splurge elsewhere. It's girl math, after all. —Lara Walsh, associate experiences editor
Gifts For Your Favorite Superfan
Whether you were able to snag tickets to Taylor Swift's Eras Tour or not, there's no denying that 2023 was the year of epic concerts and embracing your musical fandoms. Not only were Swifties and Beyoncé's BeyHive showing up, but they were arriving in style with fire concert 'fits, like disco hats. Next year is already filled with tours to watch, with more Eras Tour dates and Olivia Rodrigo's Guts shows kicking off in February, so the stans in your life need something to wear. With a Y2K hat from Joe Jonas' coffee brand or a tote that fits all your essentials from Harry Styles' Pleasing, you will surely find something that your music-loving BFF needs. — Rachel Chapman, experiences staff writer