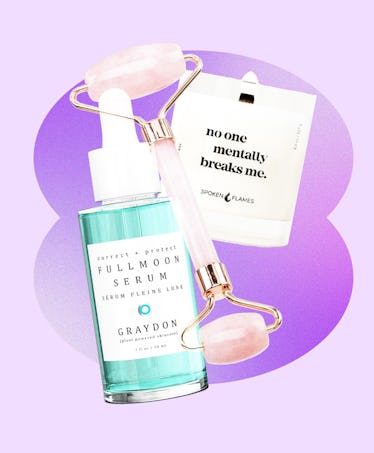 24 Under $50 Self-Care Products To Bring Home For The Holidays
Everything you need for an at-home spa.
ELITE DAILY/ZOE AYLA/GRAYDON/SPOKEN FLAMES
It's no secret that self-care is important to practice, but it's especially true during the hustle of the holidays. Between traveling back home to be with your parents and running around from holiday party to holiday party on the weekends, finding some time for yourself is more important than ever — and the right self-care product can be key to keeping zen. If you're looking to give your besties and loved ones the gift of relaxation with some self-care products this year, here are some ideas that'll help them start the new year off on the best foot.
Everyone's idea of self-care can be different. For some people, the best way to unwind is with some skin care products, a nice candle, and cozy loungewear, while others like to de-stress by working out or journaling their thoughts for the day. Shopping for a loved one can be hard with so many options out there, but if you know how your BFF, SO, or relative likes to treat themselves, it'll make choosing the perfect gift so much easier. The best part about these self-care gifts below is that they are all under $50, which saves you the financial stress of having to spend tons of money on the right present. In fact, you might find something you may want to add to cart for yourself too.
We may receive a portion of sales if you purchase a product through a link in this article.