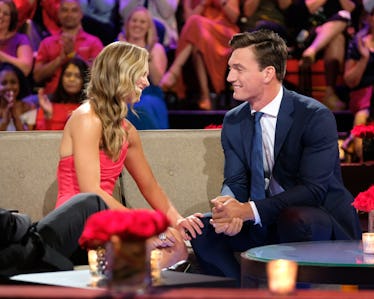 Hannah B.'s Body Language With Tyler C. Reveals If They'll Get Back Together
The Bachelorette / ABC
After a whirlwind Bachelorette finale, there's one question at the forefront of Bachelor Nation's mind: Will Hannah Brown and Tyler Cameron get back together? Their body language, unfortunately, leaves us with more questions than answers. Even when the competition was down to the final two — the beloved Tyler and the less-than-beloved Jed Wyatt — who Hannah was truly into (and her body language because of it) was difficult to figure out. Observing how Hannah interacted with both men throughout the show, psychologist Dr. Joshua Klapow picked up on how she tends to mirror the body language of whichever man she's with.
When Hannah is one-on-one with soft-spoken, sensitive artist Jed, Klapow told Elite Daily, "[Hannah] leans into him vs. jumps into him. She places her hand on his shoulder vs. wraps her arms around him. She softens her tone and speaks with more of a pensive eyebrow when she is conversing with Jed." Whereas with Tyler, Klapow notes, Hannah has more open and playful body language. "She plays more with him: more touching, faster movements, more physical teasing."
Now that Jed is out of the picture, does Tyler stand a chance? Here's a look at some moments from this past.