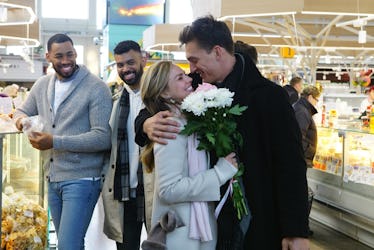 13 Photos Of Tyler C. From 'The Bachelorette' That'll Make You Swoon
Jed Wyatt may have won (and lost) The Bachelorette. But the real winner of Season 15 is Bachelor Nation, whose TV screens and social media feeds have been perpetually blessed by one Tyler J. Cameron. Yes, Tyler C. is witty and charming, as well as goofy on Twitter. He never fails to come in hot with feminist clap-backs. He physically and digitally defends Hannah Brown against f*ckboys. But there's also another, glaring reason why this particular contestant is a delight. Looking at photos Of Tyler C. from The Bachelorette, there is no getting around it: the man is extremely hot. Like distractingly hot.
To be frank, watching Tyler C. do his thing — aka being hot and lovely this season — had me sliding back a few points on the Kinsey scale. He's a smooth 26 years old and an Aquarius, which, admittedly, is perfect for a 20-something Libra like myself. He's also tall, which never hurts, and has a slight Southern Florida accent which adds to the charm. Hands down, one of the most physically attractive aspects of Tyler C. are his dreamy, ocean-colored eyes. And extra points for the times Bachelor Nation has watched Tyler C. fix Hannah with his ultra-intense gaze, as if she's the only thing on God's green Earth that matters.
And if that thought alone doesn't make you swoon, here are 13 swoon-worthy pics of Tyler C. from The Bachelorette — make sure you've got your Gatorade ready.