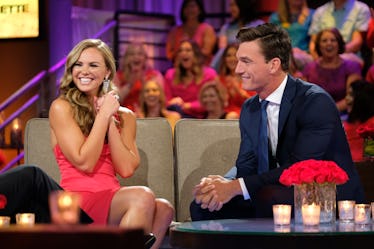 19 Photos Of Hannah B. & Tyler C. That Convince Me They're Made For Each Other
ABC/John Fleenor
Hannah B. may have chosen Jed over Tyler C. in Part Two of the The Bachelorette Season 15 finale, but the saga isn't over quite yet. During the After The Final Rose special on July 30, a newly-single Hannah asked Tyler out for drinks, and my heart soared. Anyone who's been paying attention knows that Tyler and Hannah are meant to be, and all you have to do is look at photos of Hannah Brown and Tyler Cameron together to know that.
Following the After The Final Rose special, Cameron headed over to Bachelor alum Nick Viall's podcast Viall Files to share his reaction to the surprising request. Though he initially spoke about their friendship and how it didn't need to end just because they didn't work out romantically, he eventually changed his tune. "[She's] someone I would hope to have a drink with and see what happens and take it one step at a time," he told Viall.
Similarly, during a Good Morning America apperance on July 31, Brown said of her relationship with Cameron, "I want him to be a part of my life in some way." A romantic way, perhaps? Here's all the evidence you need that it's only a matter of time before these two rekindle the flame.