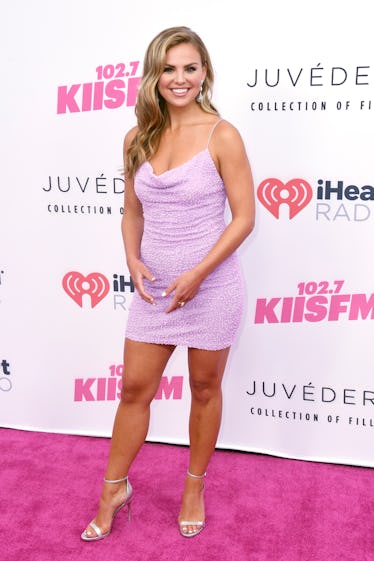 Hannah's Body Language Reveals How She Really Felt About Jed & Tyler C.
Frazer Harrison/Getty Images Entertainment/Getty Images
Something there's never been a shortage of in Season 15 of The Bachelorette is drama. (OK, maybe hyper-masculine aggression from a certain, booted contestant from Gainesville, GA, and glittery outfits on Hannah Brown.) It's the main reason the rest of Bachelor Nation and I kept tuning in these past few months. We never knew what Alabama Hannah is going to do — which included a Bachelorette finale where Hannah chooses Jed, breaks up with Jed, and ultimately asks Tyler out. Looking at Hannah Brown's body language with Jed and Tyler C., it was hard to peg just who Hannah was going to choose. But given the circumstances — less delicately: Jed being in a relationship while starting The Bachelorette — you could Tyler wasn't far behind in Hannah's affections.
Some would even say the better fit, which is juicy considering that Tyler has always been a fan favorite. And how could he not be? With his general tall Florida boy dreaminess, him being a low-key feminist icon, and really funny on Twitter. And Jed? Well, not so much.
Psychologist Dr. Joshua Klapow, host of the Kurre & Klapow Show podcast, explains that it was hard to tell who Hannah was most comfortable with because she mirrors each man's body language when with them on The Bachelorette.