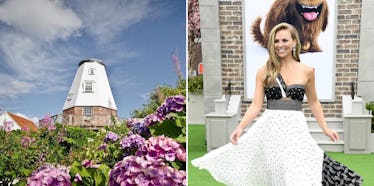 7 Windmills You Can Actually Spend The Night In, Just Like 'The Bachelorette'
Over the past few months, you might have spent every Monday night in front of your television, watching Hannah Brown navigate love, deal with drama, and travel the world. You may have texted your besties over and over again about the dreamy locations and men who stole a piece of your heart and graced your television screen. (*Tags Tyler C.*) Whether you're a loyal member of Bachelor Nation or not, though, you know that one "contestant" really stole the spotlight on the latest season of The Bachelorette: the windmill from Peter and Hannah's date in Amsterdam. Now, you're looking for windmills you can stay in on Airbnb so you can have that epic experience, too.
To recap, the windmill became famous the week of fantasy suites, when Hannah and Luke P. had a heated conversation about sex over dinner. It led to him being sent home, and Hannah dropping a line that'll go down in history as powerful, dramatic, and satisfying. "I have had sex, and honestly, Jesus still loves me," she said, which was followed by, "From obviously how you feel, me f*cking in a windmill, you probably want to leave."
In my personal opinion, it was even more iconic than Colton's fence hop in the previous season of The Bachelor, and the feminist moment we needed from the franchise. I'd even say it's worth celebrating with your besties, and a night or two in one of these windmills on Airbnb.