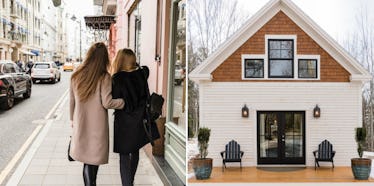 These Cozy Airbnbs In New England Are Perfect For Sweater Weather & Cute #Content
Every year when summer is slowing down and I'm flipping through the pages for August in my planner, my brain goes into #fallmode. I begin thinking about football games, campfire nights, and warm mugs of hot chocolate to come. I start imagining the dreamy days I'm going to spend at the orchard with my besties, and the apple cider and cinnamon doughnuts I'm inevitably going to order. The bathing suits, sandals, and sundresses in my closet start to feel so last season, and I anxiously await the upcoming weekend trips I have planned to the Instagram-worthy and cozy Airbnbs in New England.
Have you put together a detailed itinerary for a fall vacation yet? I sure hope so. Soon enough, the leaves on the East Coast will be vibrant shades of red, orange, and yellow, and you won't want to miss it. You'll want to grab your camera, a tote filled with sweaters and hiking boots, and a thermos for your coffee, and escape to the mountains and cities of this beautiful area of the country. You'll want to ditch your apps for the sounds of the ocean and twinkling lights on a dreamy treehouse.
Most importantly, you'll want to spend a night basking in the stars or making s'mores with your besties at one of these cozy Airbnbs. Spoiler alert: They're perfect for sweater weather and taking cute pics, so pack and clear your camera roll accordingly.