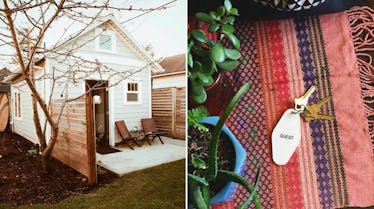 These Tiny Airbnb Houses Are Way Too Cute Not To Book With Your Bestie
Have you ever wanted to spend the night in one of those adorable tiny homes you've seen all over social media? Tiny homes are trending, and they've become more and more common in various hotspots throughout the world. They're the perfect Instagrammable retreats for you and one of your closest loved ones to have a sweet little getaway. A variety of options are listed on Airbnb, so you can easily book them. Specifically, these tiny Airbnb houses are way too cute not to book for a getaway with your bestie.
From a totally off-the-grid hut on a private island in Norway, to a cute fairy tale-inspired cottage in Western Massachusetts, there are many tiny homes to choose from, depending on where you're located and how far you'd like to travel. You and your bestie deserve to have a great getaway that allows you to completely relax and recharge from your day-to-day lives, and these little houses are great places to do just that.
Though these houses are adorable and picturesque, you best believe that they are actually really tiny. But because you and your bestie are super close, you'll have no problem navigating around these spots together. So, if you've ever wanted to have a tiny home getaway, you should definitely check any of these options out.