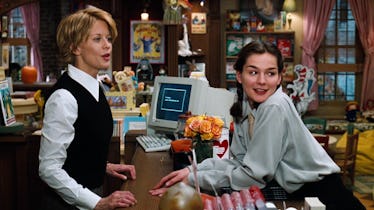 15 Fall Movies That Will Get You In The Mood For Pumpkin Carving & Apple Picking
Warner Bros.
Brace yourselves for a nip in the air, chunky sweaters, and everyone you meet having a strong opinion about pumpkin spice lattes. Autumn is almost here, but right now, the weather may seem stuck in that odd phase of not really knowing what season it is. In case the outdoors isn't reflecting how you feel, what better way to prepare for the new season than by watching these fall movies that'll make you crave apple pie and chilly walks?
From focusing on the start of a new school year to featuring autumn weather at its best, fall movies definitely aren't exclusive to Halloween flicks that strive to scare. While a few Halloween favorites made our list, these other films are dedicated to stirring up a mood that calls for snuggling under a blanket, sipping some tea, and relaxing before the holiday craziness of late autumn and early winter sets in. Sure, you may still be using the AC in your apartment, but it's the thought that counts.
Whether you interpret autumn as Nora Ephron's odes to New York or a time for your monster-loving heart to thrive, the movies praising the season can't be missed at this time of year. Get comfortable and pull on your thickest sweater, because you have movies to watch!