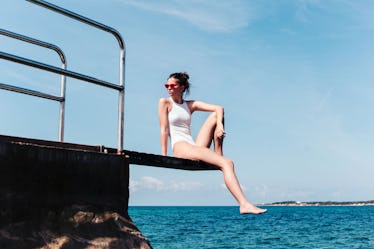 When You Want Nothing More Than Relaxation & The Best Pics This Summer, These 4 Trips Await
Lucas Ottone, Stocksy
This year, you may be trying to establish more balance in your life. You're not necessarily doing this by taking more yoga classes or having your bestie teach you ballet, but rather by getting away from the high energy and noise of your busy schedule, and hitting the virtual "pause" button. You're sending texts in your group chats on Saturday afternoons like, "Sorry, guys! I'm going to pass on tonight," and giving yourself the space you need to completely chill. That's OK, and you should know that, next to pizzas and cozy nights spent on the couch, some of the best summer trips for pictures and relaxation are in your near future, too.
These are the trips that are meant for Instagram, because they let you explore and truly discover the most beautiful corners of the world. They let you find fresh smoothie shops in Australia, lounge near the ocean all day long, and get back to nature during simple and rewarding hikes through the red rocks. They also let you check items off of your bucket list. (Snorkeling off the coast of a country in Europe? Yes, please!)
Now, I could spend a lot of time helping you come up with captions for these experiences and excursions. I think I will give you a list of the destinations that you must see and capture on your camera this summer, though. That sounds good, right? I knew you'd agree.